'Colony' season 2 premiere plot and first 10 minutes of episode 1 released online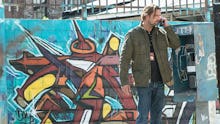 One of 2016's most interesting sci-fi shows may have been one that went under your radar: Colony. The USA series, which feels like a more sinister take on Arrival, follows a family living in a walled-off Los Angeles after an alien invasion shook the world. 
A synopsis for the first episode of the second season has been released, and before the episode airs on Jan. 12 at 10 p.m. Eastern, USA has dropped the first 10 minutes for your viewing pleasure. 
Season one of Colony introduced Will and Katie, husband and wife to three kids living in an occupied Los Angeles. One of their children, however, is beyond the mandated borders of the city, and in order to get him back, Will decides to work with the Collaborators — humans complicit with the alien occupiers. His efforts grows increasingly complicated after Katie reveals she's been working with the Resistance — a group of humans trying to take down the aliens. 
Although a little vague, here's TV Guide's synopsis for "Eleven.Thirteen," the season two premiere of Colony. 
The Season 2 premiere finds Will and Katie struggling to keep the family together; Broussard returning home; and Snyder receiving a job offer from a mysterious organization.