'America's Got Talent' winner Grace VanderWaal reveals inspiration behind "Gossip Girl"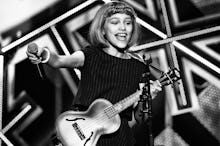 Famous before she's even a teenager, Grace VanderWaal has channeled her feelings about her new-found notoriety into her music. The 12-year-old winner of America's Got Talent said her new song "Gossip Girl" reflects her shock at becoming one of the cool kids after her victory on the TV talent competition. 
"Fake friends"
"I had a lot of those fake friends," she told Rolling Stone. "You just have to realize it's happening. You can't get caught up in the 'Oh, my God, they want to be my friend finally' aspect." 
Crowned in September 2016 after receiving the golden buzzer for her first performance, VanderWaal is the youngest America's Got Talent winner in 10 years. She rose to victory by playing the ukulele, which she learned from watching YouTube, and singing original songs — both of which she only began doing one year before competing on the show. 
Perfectly Imperfect 
Called "the next Taylor Swift" by judge Simon Cowell, she has since signed with Columbia Records. 
"Gossip Girl" can be heard on VanderWaal's debut EP Perfectly Imperfect, which also features songs she performed on America's Got Talent, including "I Don't Know My Name" and "Beautiful Thing." 
Mic has ongoing coverage of America's Got Talent. Please follow our main America's Got Talent hub.