The best music apps you can use without Wi-Fi — including Evermusic, Spinrilla and Spotify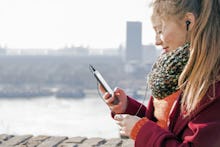 Mobile music apps are a great way to listen to your favorites tunes on the go, but many require access to Wi-Fi — unless you're willing to sacrifice your precious data allowance. That said, there are apps that let you listen to music without Wi-Fi access so you can jam out to your favorite songs wherever you are, whether that's underground or in flight. Below are four of the best:
Looking for a way to compile your own personal music stash? Evermusic is the app for you. It lets you aggregate music from various locations, including Google Drive, Dropbox and OneDrive, and curate your own music library. Users can also download songs, playlists and albums for offline playback with this free app, which is only available for iOS devices.
Hip-hop enthusiasts can get access to thousands of mixtapes from their favorite artists and DJs with Spinrilla. The app, which is available for iOS and Android devices, features an offline mode that allows users to listen to mixtapes without internet access. The app also features a radio function where users can discover new artists and a social component where they can follow their favorite artists. Spinrilla Pro is available for an additional monthly subscription cost.
The Google Play Music app provides access to millions of songs. The free version of the app (available for iOS and Android) gives users in the U.S. and Canada radio stations based on songs, offers recommendations based on their musical tastes and store and stream up to 50,000 songs from their personal collection. With a subscription, users can listen to music offline, remove ads and receive on-demand access to tens of millions of songs.
You'll have to pay a monthly fee of $9.99 a month for Spotify Premium, but when it comes to a comprehensive selection, Spotify is the way to go. Logging into a premium subscription in the Spotify app — available for iOS and Android — offers ad-free music so there will be no interruptions, better sound quality and the option to download music and listen to it offline.
Pandora users can use the app's "Offline Listening" feature, which is available to Pandora Plus subscribers. The feature only works for mobile phones and cannot be used on tablets or iPads. Pandora won't give users access to all their stations. Instead, it will download up to three of the user's most-listened stations when the device is connected to Wi-Fi.