Trump Restaurant Deposition: Here's why Trump is suing celebrity chef José Andrés.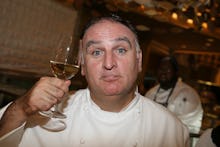 On Jan. 5, President-elect Donald Trump sat down to answer questions under oath about a multimillion-dollar lawsuit he filed against celebrity chef and immigration reform supporter José Andrés. 
The two have been feuding since July 2015, when the renowned chef backed out of the restaurant deal due to derogatory remarks Trump — who had just announced he was running for president — made about undocumented immigrants from Mexico. Trump retaliated with a $10 million civil lawsuit against Andrés' restaurant group, Think Food Group. Andrés would later hit back at Trump with an $8 million counter-suit.
Trump and his attorney, alongside Andrés' lawyers, met for over an hour in Trump Tower, according to the Washington Post. "In short, the parties entered into a valid and enforceable lease, which the tenant clearly breached by walking out and failing to perform its obligations," Alan Garten, Trump's general counsel, said. 
In a recent tweet directed at Trump, Andrés suggested ending the dispute: "Again Mr. Peotus [sic] if you're awake, let's resolve this in a friendly way. We donate $ to charity. Is a great deal!" 
The president-elect's forays into the food and restaurant business have been called into question since he entered the presidential race. Vanity Fair recently gave a scathing review of Trump Grill at Trump Tower, calling it "the worst restaurant in America." His venture, Trump Steaks, only lasted two months in the summer of 2007 due to poor sales, and no one will soon forget the now-infamous taco bowl that started a meme frenzy during the primary race.