'Once Upon a Time' season 6 is bringing back a character fans haven't seen in a while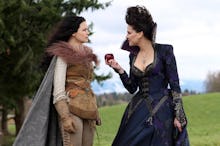 Once Upon a Time is taking a long winter hiatus, but when it returns in March, it's bringing back a major character from past seasons with it. Ariel, the beloved princess from Disney's Little Mermaid, will appear in the latter half of the ABC fantasy drama's sixth season.
In an exclusive with Entertainment Weekly, executive producers Adam Horowitz and Edward Kitsis spoke about the return of JoAnna Garcia Swisher, the actress who last played Ariel in the show's fourth season. 
"Ariel returns and meets Princess Jasmine as they join Hook on an adventure as he and Emma face a daunting challenge that requires a big-time princess team-up," Horowitz and Kitsis told EW.
Ariel was last seen in season four of Once Upon a Time, where she assisted Ursula — yeah, nothing to do with the Disney films — in reuniting with her father, Poseidon. 
In addition to Ariel's return, there are some rumors her prince, Eric, will also come back. According to IMDB, actor Gil McKinney, who last portrayed Eric in season three, will appear in the 15th episode of season six, titled "A Wondrous Place."