'WWE 2K17' Kassius Ohno/Chris Hero: How to find the fighter on Community Creations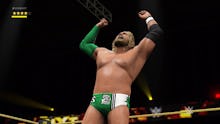 Former WWE Superstar and current independent legend Kassius Ohno aka Chris Hero has re-signed with the WWE. So what does this mean for WWE 2K17. Let's dive in.
WWE 2K17: Kassius Ohno (AKA Chris Hero) returns
Triple H, a wrestler who currently serves as the WWE's Executive Vice President of Talent, Live Events and Creative, confirmed the news with this tweet: 
Ohno made his return during an NXT show on Jan. 5, where fans chanted, "Welcome back." Watch it happen in the video below
How to play as Kassius Ohno/Chris Hero in WWE 2K17
Following the news, it seems likely that wrestling fans will want to start playing as Ohno in WWE 2K17. Thankfully, community artists for WWE 2K17 work faster than Goldberg's destruction of Brock Lesnar at the Survivor Series.
Newly signed stars are added to the game's huge roster sometimes just hours after the announcements. Oftentimes they're there even before the news is made public.
PlayStation 4 gamers could have already been using a pretty accurate creation of Ohno via the Community Creations feature on WWE 2K17. That's because his fame in Ring of Honor and a previous stint with the WWE had him firmly on the radar of multiple WWE 2K fans.
You can see Ohno teaming with Cesaro taking on CM Punk and Seth Rollins in 2012 during Ohno's first run with the WWE and NXT.
There are a number of versions of Ohno on Community Creations for PS4, but the one that we thought was the most accurate comes from Crawford_2617. This one has two NXT attires and it also has Ohno's complete moveset.
Because of the time he spent with the WWE previously, Ohno's moveset is already in the game. If you choose quick edit fighting style "Striker 3" you'll have almost all of Ohno's explosive moves.
Since AJ Styles joined the WWE in 2016, Ohno might have replaced him as one of the most popular independent wrestlers not working for the promotion.
With Ohno now in the fold and somewhat available in the game, wrestling/video game fans should get even more enjoyment from two of their passions.
More sports games news and update
Are you a sports gamer? Check out more content from Mic, including Kyrie Irving's Christmas Day game-winner re-created in NBA 2K17, some Ultimate Team predictions for new signees in the MLS, Madden 17 Ultimate Team NFL Playoff updates and WWE 2K17 DLC news.