Instagram Update: Soon you'll be able to turn Live Photos into Boomerangs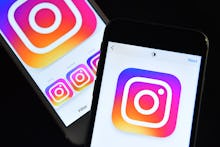 Instagram's latest update gives iPhone owners a new way to share content on the platform. The photo-sharing app is rolling out a feature to turn Apple Live Photos into Boomerangs, TechCrunch reports. Ian Spalter, head of design at Instagram, first previewed this feature as one of several iPhone 7-specific updates at Apple's annual tech event in San Francisco in September. 
What is Boomerang?
The Facebook-owned social media platform launched Boomerang for Instagram as a standalone app in October 2015. Users press a button to shoot and the Boomerang app captures a "burst of photos" and compiles them into a short video loop that plays back and forth. 
Using the Boomerang function — either the dedicated app or the feature within the Instagram app — was previously the only way to create the GIF-like animated video. Now, using the Live Photos API, Instagram gives iPhone users a second method: to shoot a Live Photo in their regular iPhone camera app and have it converted into a Boomerang. 
How to convert a Live Photo into a Boomerang
According to TechCrunch, the first step in turning a Live Photo into a Boomerang is to open the Instagram app and then open the Instagram Stories camera by selecting "Your Story" on the upper left corner. Swiping up triggers the option to upload content from your device's Camera Roll. Here, users can select a Live Photo captured in the past 24 hours. Once the image has been loaded, users have to press the screen to utilize the device's 3D touch feature. A loading wheel will then show up and the pictures captures using Live Photo will morph into a Boomerang that can be shared in Instagram Story.