Ed Sheeran songs: 10 songs you didn't know were written by the British crooner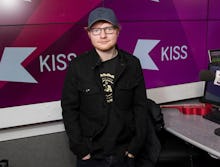 Ed Sheeran's return is being celebrated with the release of new singles "Castle on the Hill" and "Shape of You." Some may say the British singer solidified his status as a mainstay with the success of his sophomore effort X, also known as Multiply. But before he carried home a Grammy for song of the year, Sheeran collected checks for his pen skills. He spoke about his songwriting process in recent years.
"I've only written songs from the heart. I don't really see the point of making music if it's not an expression of self or a form of therapy," he told PBS's Charlie Rose. "If I have a bad day, [and] I wanna write a song, I don't want to write a song to have a hit. I want to write a song because I want it to make me feel better."
The British crooner has been behind tracks sung by big American acts and fellow British pop artists, so it's likely you've been singing them all along. Here are a list of 10 songs you didn't know were written by British crooner Ed Sheeran. 
One Direction, "Moments"
Sheeran was credited for this One Direction cut alongside Si Hulbert.
One Direction, "Little Things"
Sheeran co-wrote this hit with Fiona Bevan.
One Direction, "Over Again"
Ed Sheeran is the writer behind "Over Again" along with Alexander Gowers and Blue Bear.
Taylor Swift, "Everything Has Changed" 
Swift and Sheeran co-wrote their 2012 duet from Swift's Red album.
Jessie Ware, "Say You Love Me" 
Two Inch Punch, Benny Blanco, Ed Sheeran and Jessie Ware co-wrote this track from Ware's Tough Love.
One Direction, "18" 
Another One Direction jam. Sheeran joined forces with Oliver Frank to write it.
Hilary Duff, "Tattoo"
Chris Leonard, Jake Gosling, Ed Sheeran and Hilary Duff collaborated to write "Tattoo."
Tori Kelly feat. Ed Sheeran, "I Was Made for Loving You"
Singer and songwriter Tori Kelly and Sheeran wrote "I Was Made for Loving You" together.
Justin Bieber, "Love Yourself"
Justin Bieber had help from Sheeran and Benny Blanco on "Love Yourself."
Major Lazer feat. Justin Bieber, MØ, "Cold Water"
Sheeran is listed as a writer on "Cold Water" along with Henry Allen, Jr. Blender, Diplo, Justin Bieber, MØ, Jamie Scott and Benny Blanco.