We need to talk about Hailee Steinfeld's, erm, fashions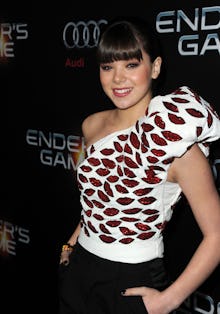 First things first, Hailee Steinfeld is a beautiful young woman. She's also remarkably talented. These are facts, the latter of which was confirmed in 2011 when a then-14-year-old Steinfeld was nominated for the best actress in a supporting role Oscar for her turn as Mattie Ross in True Grit.
In 2016, she earned rave reviews both for her Golden Globe-nominated performance in The Edge of Seventeen and for her single "Starving," which hit No. 5 on Billboard's mainstream Top 40.
She's seamlessly inserted herself into a famous girl squad, starred in a cult favorite franchise and even served as the face of a major clothing brand. But there's one aspect of celebrity she just hasn't quite conquered just yet: red carpet fashion.
The answer to New York Magazine editor Kyle Buchanan's apt tweet is stylist Karla Welch, the force behind what Teen Vogue described as Steinfeld's "enviable style."
"We're just not afraid of trying things that are different," she told the magazine in November 2015. "That's always been our mantra when it comes to the red carpet."
Case in point:
Now, Steinfeld is no fashion disaster. On a number of occasions, Steinfeld has showed up to various events in gowns that could easily garner her "best dressed" awards. 
To Sunday's 2017 Golden Globes, she stunned in a pale purple custom Vera Wang gown.
This was no anomaly either.
It's just that when Steinfeld misses the mark, she tends to really miss the mark.
So perhaps in 2017, more this:
And less this:
But, hey, better to be a sartorial risk-taker than someone who only ever plays it safe. So while we some of these looks might best remain in a tightly-sealed vault never to be opened again, Steinfeld's fashion wins far outweigh the disasters.