5 simple financial rules to live by in your 20s — so you're not broke in your 30s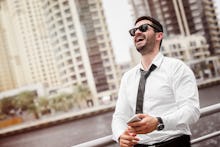 Navigating your 20s while keeping coin in your pocket is hard: There's your student debt, overpriced rent, trying to get your job to pay you top dollar — and the never-ending pressure to do more with less financially. 
People (especially the olds and MillenniOlds) have abundant advice for 20-somethings coming into the money world.
These know-it-alls (like me) are first to tell you not to spend more money than you earn and the difference between a debit card and a credit card.
Bleh.
Sure, it's all good advice, but what about simple nuggets of wisdom that you can actually take action on today?
Here are 5 rules that don't require much thought — but that will seriously pay off by the time you're 30.
1. Treat Uber like just that: a treat
This is to be taken literally — and as a metaphor for other areas of spending.
Ubers and taxis are pricey, even when you're not getting scammed.
And there's not too much difference between Uber and a regular taxicab: In New York, taxis are cheaper when traffic is moving slower than 20 mph, while Uber is cheaper the rest of the time (except when charging high-demand fares), according to Business Insider.
Yes, it's cold and you're late and a cab seems like the easiest solution.
And maybe there will be nights (or, more realistically, wee-hours-of-the-morning) when you truly need to hail a car to get home safely.
But simply put: The subway is cheaper.
And much of your financial success will depend on your setting up your life so those "must-splurge" scenarios are rare, special, and few-and-far-between.
In general? Plan ahead and decide how much you can spend monthly, weekly, and daily. That way you won't be throwing money away on cabs when the train or a carpooling friend will get you to your destination just fine.
Ditto other areas in your life: Regularly opt for the standard option within your budget and save the spendy choice for a celebration or special occasion.
Writing up a real budget, even one that just takes 5 minutes, will help you make vague goals into a reality.
The rules apply to clothes, restaurants, housing and cocktails. Stick with your tried-and-true beverage rather than splurging on specialty drinks.
And, always, watch out for consumer scams dressed up as the hottest new trend.
You are not the baller you think you are. Until you are.
2. Know that career skills are good, but gig-able skills make you great
Marketable career skills will help you get a job. Gig-able skills will help you survive.
Your gig-able skill may be what you've poured your heart and soul into over the entire course of your educational career — Congratulations, you can design a building or read and understand a legal contract! — or it may simply be a passion (felt puppet art!) you've polished into a gig (Etsy!).
But this talent is going to be your secret weapon in the economy.
The skill — a language, a physical or technical or mechanical skill, a computer proficiency, an experience you can guide others through — should be something you could start doing immediately should sh*t hit the fan.
Maybe you have that magic touch at taking photo booth pictures at parties.
Or maybe you're spectacular at using a level to hang art on walls — and can charge a premium on TaskRabbit because of it.
Don't turn your nose up: Traditional careers aren't always as fulfilling as you anticipate and don't always pay what you need. They can also disappear. 
Your insurance against falling too far behind? A gig-able skill that you offer on Fiverr, PeoplePerHour or Guru with no bar to entry except mad skills.
Explore the vast world of online courses if you're looking to boost a gig-able skill. You may find your gig is your real calling after all.
3. Learn to invest in yourself and your future
It might require you to download an "age-your-face" app to get motivated — but the single best way to invest in your future self is to put as much as you can (think: at least 10% of income) into stocks via your 401(k) or IRA.
By investing money beginning at the age of 22, you could end up with nearly $1 million more for retirement than if you started at 30.
That's real cash money.
Because of the powerful effect of compounding returns, your money will grow faster the sooner you put it in an investment account.
And if you're already doing the 401(k) thing and are also thinking about buying hot stocks — say, by buying shares in weed companies — to boost your annual income? Investing through a brokerage account can certainly be a cash booster, helping you grow your wealth like Warren Buffett.
But do your homework, and watch out for narrow, risky bets (aka you probably don't want to go all in on weed stocks). Novices are likely better off sticking with broad index funds and ETFs.
And keep your expectations realistic: Average stock market returns historically have been about 7% a year. That's like $7 for every $100 you put in annually.
Any investment that promises bigger returns than that? It likely comes with bigger risks, too.
4. Remember: There's no extra credit, just good credit and bad credit
Your credit score is something you want to protect and nurture throughout your 20s, like a tree you hope to sit under in a decade or so.
Focus on keeping your credit score above board, or good — not bad.
Think: More like 750 and higher, less like 650 and lower.
Mistakes made in your 20s — accruing collection fees, delinquent credit card payments, excessive debt you can't get out from — can affect your credit report for decades to come.
But forgive yourself, and stay focused on making lemonade out of lemons. Not beating yourself up.
Most people will have less-than-perfect (even bad) credit in their lives.
If you are one of those people, you'll still be able to purchase things on credit, but your track record will make buying a car, buying a house, even renting an apartment or getting insured a lot harder and more expensive.
Luckily, a few smart moves will help you bounce back.
5. Communicate with the VIPs in your life about money
Establishing a habit of discussing your financial well-being with the VIPs in your life — significant others, friends, parents — is a healthy and productive habit. 
It is hard. In fact, 43% of people surveyed by Fidelity in 2015 didn't even know their spouse's salary.
And yet, having regular discussions about money can help you be honest with your partner about financial realities that involve them. If you start communicating about money with your boo before you get married, you'll end up in a better position to grow richer together as a unit.
It will also probably help keep the nasty fights at bay.
And what about your boss? That VIP who actually controls the purse strings of your life?
It obviously pays to be kinder and more responsive than necessary at the office — always writing thank-you notes, cooperating with coworkers and treating others fairly is a good rule of thumb.
But don't waste your time trying to "under-promise and over-deliver" at work.
Research suggests you rarely get any big bounce — financially or in terms of social capital — from going above and beyond.
Don't strive for the extra credit; just deliver a high-quality product on time.
Then use the examples of your successes when you ask for a raise.
Sign up for The Payoff — your weekly crash course on how to live your best financial life.