Fort Lauderdale Airport Shooting: Man opens fire in terminal, at least 5 reported dead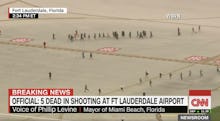 A shooter at Fort Lauderdale-Hollywood International Airport opened fire Friday afternoon, injuring several people, according to NBC News. At least five people are dead, according to an unnamed law enforcement official cited by CNN. 
Florida Sen. Bill Nelson identified the alleged shooter as Esteban Santiago, who reportedly had a handgun and a military identification card, the Daily Beast reported.
According to CBS News, Santiago had an encounter with law enforcement in November, when he walked into an FBI office in Anchorage claiming someone had forced him to fight for the Islamic State. Sources told CBS that Santiago had after police arrived he was admitted to a psychiatric hospital.
A Transportation Security Administration tweet at 2:33 p.m. Eastern on Friday said there was an active shooter, approximately 90 minutes after the initial shooting, leading many to believe there was a second shooter. Minutes later, CNN tweeted video footage of people running across the tarmac. However, a second shooter has not been confirmed by law enforcement and there were no media or police reports later in the day of disruption or subsequent shootings.
SWAT officers responded to early reports of a second shooting, according to Kathy Vara of KNBC. 
Chip LaMarca, commissioner for Broward County, where airport is located, wrote in a Facebook post that Santiago was "a passenger on a Canadian flight" who had a gun in his checked baggage, which he loaded in the bathroom after retrieving his bag. He then came out and began firing.
In a follow-up post, LaMarca said law enforcement officials were "searching the parking garage as there is a possible second active shooter."
Witnesses told CNN the area "looked like a war zone."
Fort Lauderdale Mayor Jack Seiler confirmed to the Associated Press that the shooter had acted alone, before a second shooting began.
Initial tweets citing police sent out by Ari Fleischer, a former White House press secretary for President George W. Bush, said there was one shooter and five victims.
Tom Winter of NBC News tweeted that a shooter had been taken into custody, and said six to nine people had possibly been injured.
Citing local officials, Miami's WSVN reported the gunfire broke out in the lower-level baggage claim area in the airport's Terminal 2, noting hundreds of passengers and employees had been evacuated from the airport.
There are unconfirmed reports that gunfire was heard in Terminal 3 when the second shooting began. 
President-elect Donald Trump and Vice President-elect Mike Pence both tweeted "thoughts and prayers" to Florida. Trump also said he had talked to Florida Gov. Rick Scott. 
Jan. 6, 2017, 5:51 p.m. Eastern: This story has been updated.
Correction: Jan. 6, 2017
Natasha Noman contributed to this reporting.