Vivica A. Fox says male dancers at her new all-male revue won't be dancing for gay men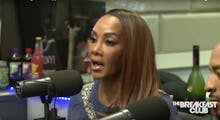 Vivica A. Fox wants people to know her new strip club is ladies only. 
During an appearance Friday morning on The Breakfast Club, a radio program based in New York, the Two Can Play That Game star told listeners about her new Las Vegas all-male revue, Black Magic, and had a very clear message for potential patrons — no gay men allowed. 
When DJ Envy asked Fox if her club would host gay male patrons, Fox answered, "Oh, hell no! Back all that up! No!" 
Fox later clarified that she wanted to make her strip club a unique experience women could enjoy in peace. 
"It's called the 'ultimate girls' night out' for a reason," she said. 
However, only a few moments later, Fox agreed when host Angela Yee described a strip club as a "great place for heterosexual guys to meet women." 
Fox's adamant assertion that her dancers would not perform for gay men was not the only time queer people came up in the conversation. Earlier in the interview, host Charlamagne Tha God said there's a "stigma" attached to men who strip. 
"What's the stigma?" Fox asked. 
"That they're gay," Charlamagne replied. 
"Stop that. Not true," Fox said, reassuring listeners the strippers working at her club are not gay. "You ain't seen the boys on my show." 
After Charlamagne and Fox exchanged words, Yee called Charlamagne's assertion a "misconception." 
"Men don't want their women to go to these revue shows, so they put that rumor out there," Yee said. 
Or, you know, it could be that someone's job has nothing to do with their sexuality — and vice versa. 
Fox did not immediately respond to a request for comment.