Jackie Evancho Songs: 6 notable tunes from the 'America's Got Talent' singer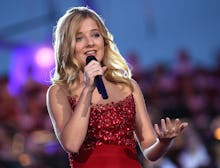 Considering President-elect Donald Trump insists her album sales have gone up since it was announced she would be performing at his inauguration, let's dive deep into the music of Jackie Evancho, the 16-year-old singer who competed on America's Got Talent when she was 10 years old. 
Before Evancho rings in the forthcoming president on Friday, Jan. 20, here are a few songs from the artist worth noting.
"All of the Stars"
Evancho's 2015 cover of the Ed Sheeran song is her most-played on Spotify, with over 300,000 plays. Sheeran sang the song for the Fault in Our Stars soundtrack. 
"Apocalypse"
Released in 2016, "Apocalypse" is an original single from the 16-year-old. According to Billboard, the song is from her upcoming album, and is, as the site noted, "her first pop single." 
"Ave Maria" 
As part of her 2014 record Awakening, Evancho did a cover of the classical song "Ave Maria." 
"Little Drummer Boy"
Evancho released a 2016 Christmas record, titled Someday at Christmas. She sang a cover of "Little Drummer Boy," from composer Katherine K. Davis.
"The Rains of Castamere" 
Evancho's album, Awakening, features a cover of the haunting song "The Rains of Castamere." The song is from Game of Thrones and Westworld composer Ramin Djawadi.
"Safe & Sound"
One of Taylor Swift's popular songs is not even from one of her records, but from the soundtrack of the Hunger Games film. Evancho released a cover of the stirring "Safe & Sound" as a single.