How much do 'The Bachelor' contestants get paid? Here's what winners (and losers) make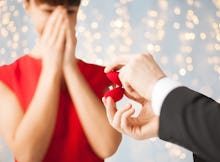 If you're going to be a contestant on The Bachelor, the reality show staple that's currently in its 21st season, you'd better be in it for love. 
That's because while there are certainly ways to cash in your 15 minutes of fame, the vast majority of contestants on the show are reportedly unpaid.
Representatives from ABC declined to comment to Mic on whether these previous reports are accurate, but also didn't deny them.   
Of course, that said, there are still plenty of alums of the show who have managed to do more than well for themselves. Here's how it all breaks down. 
How much does The Bachelor make?
The biggest pay day most likely goes to the main attraction, The Bachelor himself, who reports suggest generally pulls in a salary north of $100,000 to shoot the season, which takes less than two months.
Not a bad payday. 
Some of the Bachelors have possibly made a little less: Sean Lowe reportedly made between $70,000 and $90,000 for his stint.  
The best-paid person in the franchise may actually be on the show's counterpart, The Bachelorette. Emily Maynard reportedly received $250,000 for her season on the show, according to the TV blog WetPaint.
Are The Bachelor contestants really unpaid? 
Not only are they unpaid, reportedly, but it appears that many contestants actually quit their jobs and go into debt in order to appear on The Bachelor.
The reason for that is the contestants are supposed to provide their own clothing, and, well, no one wants to get shown up. 
While hyperbole probably abounds, there are reports of huge credit card bills, 401(k) cash-outs, and even some contestants who claim to have refinanced their mortgage.
What do the contestants on The Bachelor get?
Well, the winner of show gets a pretty sweet engagement ring. Last season's was a custom-made bauble set with a three karat diamond which was worth about $100,000, sources told UsWeekly.
Previous seasons have culminated in the presentation of a Neil Lane engagement ring, prompting speculation about a product placement arrangement. 
Those rings reportedly cost in the $60,000-$70,000 range, and couples have to give the ring back if they don't stay together for at least two years.  
What does the Bachelor in Paradise cast get paid?
It appears the best way to actually parlay your appearance on The Bachelor into an actual payday is to use your time on the show to springboard into other reality show gigs.
The most obvious is Bachelor in Paradise, the spin-off where previous contestants try to pair off in a musical chairs-like competition. They can reportedly make up to $8,000 if they make it to the final round, which isn't bad for three weeks of hanging out in a tropical resort. 
Of course, there are lots of other reality shows out there, and anyone who knows the reality show filming drill, and has a following of their own, are obviously going to be more attractive to producers. 
Several former Bachelor franchise contestants have done stints on Dancing With the Stars, for instance, which comparably pays quite well: In addition to a low six-figure base, contestants on Dancing With the Stars also get bonuses depending on how long they last. 
Lastly, there's always demand at America's malls and clubs for famous — or semi-famous — faces, with popular contestants netting low-five figure sums just to make an appearance. 
Nice money, if you're okay with the drawbacks of reality television, and a career built on it.
Sign up for The Payoff — your weekly crash course on how to live your best financial life.