Fla. senator filed bill to allow guns in airports less than month before airport shooting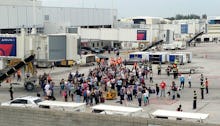 A Florida state senator filed a bill to allow concealed weapons in airport terminals less than a month before a gunman opened fire Friday in the Fort Lauderdale-Hollywood International Airport, killing at least five people and wounding several others. 
Last month, Republican state Sen. Jake Raburn filed the bill, which would allow those with concealed-carry licenses to bring their guns to airport passenger terminals, K-12 schools, college campuses and in government meetings in the state, the Sarasota Herald-Tribune reported. 
A hearing on the bill was set for next week, but was postponed Wednesday, according to the Herald-Tribune. 
Florida Open Carry, a gun rights group in the state, sent an email on New Year's Eve looking to garner support for the legislation, calling it "the most important pro-Second Amendment rights bill of the 2017 legislative session," according to the Tallahassee Democrat.
The gunman who opened fire in the Fort Lauderdale airport — identified as Esteban Santiago — did so in the baggage claim area of the terminal, according to Chip LaMarca, a Broward County commissioner.
Santiago had checked the firearm in his bag, retrieved it at baggage claim and opened fire, shooting 13, LaMarca said.