Planned Parenthood reportedly blocked from delivering petitions to Paul Ryan's office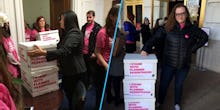 Planned Parenthood volunteers arrived at House Speaker Paul Ryan's office on Friday armed with nearly 90,000 petitions in response to GOP plans to strip the organization of its funding. 
Ryan delivered the news at a press conference on Thursday, announcing that the legislation would be folded in with the Republican bill to repeal the Affordable Care Act.
Apparently the House speaker wasn't quite ready for the impending backlash: According to tweets from Planned Parenthood's official account, volunteers were greeted by a sign on Ryan's door informing visitors that only "scheduled appointments" would be admitted into his office. 
The organization also alleged that six security guards had been sent to physically block the delivery of the petitions.
In a later tweet, Planned Parenthood shared a photo of Rep. Gwen Moore (D-Wisc.) opening her office door to accept the petitions. 
"Paul Ryan may have locked his doors, but he can't drown out our voices," Planned Parenthood Action Fund organizer Erin Carhart wrote in an emailed statement. "So far, [nearly] 90,000 people have sent the message that they do not want to see Planned Parenthood defunded, and more people are signing on every day."
She added, "If Paul Ryan is going to take away our health care — and the care of millions of people — the least [he] can do is meet us face to face."
Moore's move didn't save Ryan from scrutiny, though. Twitter users started the hashtag #PaulRyanSoScared, mocking the House speaker for seemingly avoiding his opposition.
"Like it or not, Hillary Clinton empowered women in this country," wrote Twitter user @TessDeco. "We are not afraid of you, Paul Ryan. Try us."
Another user offered a suggestion for how to get Ryan to perk up and listen to reproductive rights activists.
"If @SpeakerRyan is afraid of signatures, maybe [Planned Parenthood] needs to send him pap smear swabs, billions," @Rhonlynn wrote.
Hey — there were Periods for Pence and Tampons for Trump. Why not Paps for Paul?
The House Speaker's office line was busy when Mic reached out for comment.