Everyone calm down. Paul Ryan's speaker logo is not a Nazi symbol.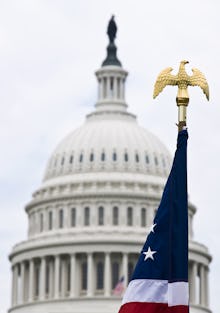 Sometimes we all need to take a breath and crack open our U.S. history textbooks.
Some drama was a-brewin' on Twitter after a tweet suggesting that House Speaker Paul Ryan's official logo looks, well, a little Nazi-ish made the rounds Friday afternoon. The tweet that seems to have sparked the comparison was from Kenneth Pennington, whose Twitter bio identifies him as a former digital director for Vermont Sen. Bernie Sanders.
Others jumped on the bandwagon, pointing out that the Ryan's logo, featured at the top of his website, looks a lot like a Nazi eagle symbol, which is categorized in the Anti-Defamation League's list of hate symbols.
But Ryan's logo is not a Neo-Nazi rebrand — it's actually an extremely old seal. Ryan's "logo" appears to be just a graphic depicting the Speaker's Mace, a symbol of the House of Representatives.
The current Speaker's Mace, basically a ceremonial pole, has a silver globe on the end of it and is topped with an eagle. The tradition of the mace has been around since the 18th century — well before the Nazis made the eagle one of their symbols too. 
And the Speaker's Mace is a symbol featured on the seal of the speaker of the House, which Ryan did not make up — his predecessors used it too.
And eagles on top of globes are everywhere in the United States — including in the seal of the U.S. Marine Corps, the Eagle, Globe and Anchor. The presidential and vice presidential seals also feature eagles, as does that of the U.S. Senate.
So, while it's always fun to make like Nicolas Cage's National Treasure character and seek out hidden messages in government symbols, you won't find your next case here.