Former Mexican President Vicente Fox just made it clear who's paying for Trump's wall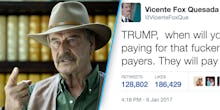 Without any bricks being laid, President-elect Donald Trump's wall has taken quite a few hits. 
This week, Trump walked back on one of his few solid campaign promises and announced he would ask Congress, not Mexico, to pay for his proposed border wall between the United States and Mexico. Trump later clarified in a tweet that Mexico will still pay for a wall by reimbursing the United States. 
But, that's not the case, according to former Mexican President Vicente Fox. On Friday, Fox clapped back at the Trump, saying once again that Mexico will not be financially responsible for the wall. 
In no uncertain terms, Fox wrote: "Trump, when will you understand that I am not paying for that fucken wall .Be clear with the U.S. taxpayers. They will pay for it." 
Fox has long kept Trump in check regarding who would pay for Mexico's wall. As far back as February, Fox dropped an f-bomb on live TV to underscore that Mexico wouldn't pay for the wall. Since then, Fox has stuck to making pot shots at Trump, including mocking his ties. 
Fox is not the only one mocking Trump's ideations of a wall. On Friday, Twitter users dragged Trump after he said Congress would foot the initial bill.