Black military sergeant found "die nigger" spray-painted onto his car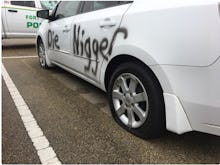 Just as Army Staff Sgt. Jonathan Charlot, 22, walked to his car to head home for Christmas, he discovered a death threat spray-painted across the side of his white 2009 Nissan Sentra, the New York Daily News reported. He was in the Fort Hood military regiment in Fort Hood, Texas. 
The graffiti on the car read "Die nigger." But the message went beyond the spray paint. All four tires had been slashed, a window was smashed and the car's interior was soaked in gasoline. 
"It's disheartening, if you will," Charlot said of the incident to the Killeen Daily Herald. "It makes me feel disgruntled, unwanted — that the America I love isn't the same anymore." 
Fort Hood's criminal investigation unit told the Daily Herald that they have the vehicle and are investigating the incident. 
Charlot's friend John Martinez began a GoFundMe to help Charlot procure a new car. 
"Although racism still exists in this country, I never thought I would realize this kind of hatred personally," Martinez wrote on the fundraising page. "I can't imagine the emotions my best friend is experiencing but my hope is to raise enough money for him to purchase a new vehicle since his insurance will not cover such an incident." 
As of press time, the fundraiser had reached just over half of its $10,000 goal in 11 days.