Donald Trump's son-in-law Jared Kushner is striking deals with a shady Chinese firm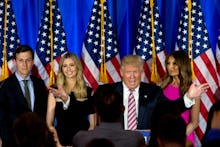 Jared Kushner, President-elect Donald Trump's son-in-law and close adviser, is defying the future administration's belligerent rhetoric on China in pursuit of a massive real-estate development deal with a Chinese financial firm, the New York Times reported.
Kushner is currently negotiating a deal to redevelop the Kushner family-owned tower at 666 Fifth Avenue with "Anbang Insurance Group, a Chinese financial behemoth with estimated assets of $285 billion and an ownership structure shrouded in mystery." Talks with the Chinese firm began six months ago, the Times reported; Kushner's lawyers are investigating how he could pursue both the investment deal and a future role in the Trump administration simultaneously, arguing federal anti-nepotism laws do not apply to White House hires because the White House is not an agency.
It will be difficult for Kushner to escape the impression of profiteering, given he is so influential on the Trump team. In fact, Barack Obama's administration has been told Kushner is Trump's go-to representative for all matters of foreign policy, two sources told the Times. While the U.S. government does not currently consider Anbang a Chinese state-owned enterprise — which could land Kushner afoul of constitutional law — Anbang's chairman, Wu Xiaohui, is "one of the most politically connected men in China." The corporation boasts deep ties to Chinese officials and its board includes some Chinese ex-regulators.
Jamie S. Gorelick, a partner at Washington law firm WilmerHale, told the Times that Kushner would divest many of his assets to comply with federal ethics laws while serving in the upcoming administration, which could include his stake in 666 Fifth Avenue. While the Anbang deal is Kushner's largest ongoing potential conflict of interest, Kushner Companies has dozens of partners, many of which are international and not publicly disclosed.
Trump campaigned on a protectionist platform and is rumored to desire a trade war with China. However, much like Kushner, the president-elect has continued to conduct business in private.
Trump himself has many more potential conflicts of interest stemming from his business empire, including real estate deals across the globe and in the United States, financial stakes in energy companies, labor disputes and other business concerns. 
The president-elect has repeatedly defied demands and his own promises to clearly explain how he will separate himself from his businesses prior to taking the oath of office. Far from isolating his administration from the potential appearance of impropriety, Trump has assembled a Cabinet and advisory committees full of some of the wealthiest — and thus potentially ethically conflicted —people in the country.