13 surprising facts we learned in the Carrie Fisher and Debbie Reynolds HBO documentary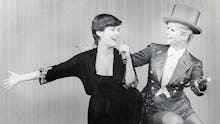 Less than two weeks after the deaths of mother-daughter duo Debbie Reynolds and Carrie Fisher, HBO aired the documentary Bright Lights: Starring Carrie Fisher and Debbie Reynolds on Saturday night. Filmed prior to their deaths in December 2016, the special was created to highlight the "complicated, eccentric" relationship between Fisher and her old-school Hollywood mother.
Check out 13 surprising facts we learned about the Hollywood icons.
Nicknames
Fisher lovingly refers to her mother as "Tsumommy," because like a tsunami, there is no stopping Reynolds from doing as she pleases. When Reynolds wants to do something — like perform across the country — there is nothing Fisher can say to make her mother stay home.
Close proximity
Fisher and Reynolds are not just emotionally close, but physically close as well. They live in a compound in Los Angeles and have houses right next to each other; the only thing separating them is a hill.
Reynolds is confident
Reynolds started performing when she was 16 years old and claims she only got nervous once — in front of the Queen of England. She was with Bob Hope at the time and said, "the crown and jewels threw [her] a little bit."
Fisher's "big rebellion"
Fisher was just 13 years old when she started joining her mom on stage. Reynolds wanted her daughter to follow in her showbiz footsteps, but Fisher refused to do the nightclub act. According to her, that was her "big rebellion."
Fisher's home
Fisher has lived in her home for 20 years and decorated it with some interesting relics. Her bathroom features a piano and she collects "ugly children portraits." Fisher says one of the paintings looks like Shia LaBeouf as a "Dutch, underage prostitute." 
Other bizarre items in Fisher's home include a Princess Leia sex doll and a giant Prozac pill sticker.
Fisher's first thoughts on Star Wars
Fisher's brother, Todd, reveals his sister thought Star Wars was going to be a "B movie."
"She thought it was going to be a cheesy film," Todd says, adding that Fisher hid in the back of the theater for the movie's initial screening.
Best friends
"I think I'm my mom's best friend," Fisher tells the cameras during filming. "I know what my mother feels and wants. And there's a lot of it."
"I share everything with my daughter," Reynolds adds. "Especially the check."
But they weren't always so close. After all, Fisher wrote about her once-strained relationship with her mother in the semi-autobiographical novel Postcards from the Edge. In 1990, the book was turned into a movie starring Meryl Streep and Shirley MacLaine.
Fisher's mental health
In the documentary, Reynolds reveals that Fisher's personality changed when she was 13 years old, though she wasn't diagnosed as manic depressive at the time. Fisher eventually started experimenting with drugs, including painkillers, which she says "calms her down."
Reynolds' Hollywood paraphernalia collection
At one point, Reynolds had quite the collection of Hollywood paraphernalia — including Marilyn Monroe's iconic subway dress, Judy Garland's dress from The Wizard of Oz, clothing from the Rat Pack and props from Cleopatra and Marie Antoinette. 
Reynolds wanted to "save" everything and open a museum to display it, but a lack of investors left her in debt and she was forced to sell many of the items she collected. She held three auctions over the years and eventually sold Monroe's dress from The Seven Year Itch for $6.2 million.
Fisher's virginity
Fisher lost her virginity to childhood friend Griffin Dunne in London — she didn't want her boyfriend at the time to know she was a virgin.
"My hymen was a burden to me," Fisher says.
That's not the only sex story Fisher reveals in the film. She claims her mom offered to "supervise" sex with a man named Albert. (Did we mention how close Fisher and Reynolds were?)
Fisher's relationship with her father
Reynolds and Eddie Fisher divorced when Carrie and Todd were still young. According to childhood friends, the divorce devastated Carrie, who was repeatedly disappointed by her father in the years that followed. Despite that, she still looked forward to seeing him. 
In the documentary, Fisher reveals her father once visited her and asked for "$5 to $10 million dollars for clothes." She told her father she didn't have the money and he threw a fit.
Maxine Reynolds
Debbie Reynolds' mother, Maxine, revealed in a 1985 interview that her daughter initially wanted to be a gym teacher. She and her husband tried to get Debbie out of show business but ultimately realized she loved it.
Screen Actors Guild Lifetime Achievement Award
Reynolds was the 2014 recipient of the Screen Actors Guild Lifetime Achievement Award. She wasn't feeling well at the time, and documentary footage shows an upset Fisher as she tries to make accommodations for her mom to be at the event.
Reynolds attends the awards show but is frazzled in the car on the way there. She doesn't know what award she's accepting and gets upset when people keep asking her questions.
"It's an achievement that you even got here," someone says.
Reynolds insists it does not look like Fisher is holding her up as they walk into the event, but unbeknownst to viewers, there is a room in the back for her to lay down once she accepts the award.