Sunday will see SeaWorld San Diego's final theatrical orca shows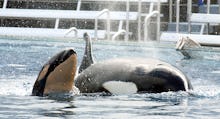 Sunday marks the final theatrical orca performance for SeaWorld San Diego. Starting Monday, the park will present a reworked killer whale show that aims to educate audiences, Reuters reported. This summer, it will launch its orca educational encounter, which, according to SeaWorld's website, will teach visitors about killer whales with a "focus on orca enrichment, exercise and overall health." 
Whether or not this will change the actual program much is somewhat hazy. The educational iteration of the One Ocean show will bring visitors to the same Shamu Stadium pool to observe the whales in a more natural habitat, which will likely include many familiar moves. 
"You will still see a whale leaping out of the water," Al Garver, vice president of zoological operations and ex-orca trainer, told the San Diego Union-Tribune. "We want to be able to demonstrate behaviors people would see in the wild with the killer whales and their abilities as a top predator in the sea. The vast majority of behaviors people have seen in our shows will be very suitable for demonstrating that."
SeaWorld came under fire for its handling of killer whales in captivity after the documentary Blackfish debuted in 2013. Blackfish centered on Tilikum, the SeaWorld Orlando orca involved in three deaths at the park. Tilikum died on Friday, likely from lingering health problems. 
The movie attributed Tilikum's behavior to mistreatment and negligence on the part of SeaWorld, sparking a backlash that tanked park earnings, especially at San Diego, the first of the franchise's sites. Blackfish prompted calls for SeaWorld to end its orca shows, and in 2015, SeaWorld Parks & Entertainment CEO Joel Manby promised reform for San Diego's performances. According to Reuters, parks in Orlando, Florida, and San Antonio, Texas, will do the same by 2019.