Mark Hamill reads Donald Trump's New Year's tweet in perfect Joker voice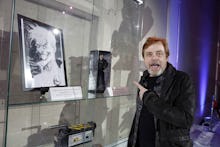 President-elect Donald Trump has, if anything, only gotten worse on Twitter since winning the Nov. 8 election, using his social media platform for every malicious jeer possible. He's taunted everyone from the Chinese government to The New Celebrity Apprentice host Arnold Schwarzenegger, culminating in a New Year's Eve toast to his "many enemies and those who have fought me and lost so badly they just don't know what to do."
It turns out that the president-elect's megalomaniacal tweeting, however, makes a whole lot more sense read in the voice of a man about to explode a giant canister of hallucinatory gas into a Gotham City ballroom. Enter actor Mark Hamill, the voice of the Joker in Batman: The Animated Series and several other Batman franchises. We have Hamill to thank for this version of Trump's New Year's Eve tweet read in his classic Joker voice, which he shared on Twitter on Saturday night:
Hamill isn't the first person to notice Trump often sounds more like an animated character than a Queens-born real estate developer. Billy West, who voiced incompetent space admiral Zapp Brannigan in Futurama, did some uncannily fitting readings of some of Trump's famous quotes last year.