Twitter suspends Martin Shkreli for harassing journalist Lauren Duca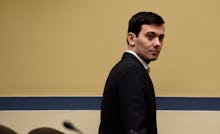 Pharma bro Martin Shkreli, alternately referred to as the "Most Hated Man in America," spent his weekend persistently harassing writer and Teen Vogue editor Lauren Duca on Twitter. On Sunday afternoon, his creepy badgering got him kicked off the social media platform — at least for now. Shkreli's account has been suspended.
Shkreli reportedly became aware of Duca after she appeared on Fox's Tucker Carlson Tonight and beat back the host's opaque sexism. On Thursday, Shkreli began his bombardment with an invitation, sending Duca a direct message to ask if she wanted to be his "+1 to the inaug." 
"I would rather eat my own organs," came her response, along with a tweeted screenshot of the DM. 
Presumably because Shkreli — whose infamy stems from having ratcheted up the price of a life-saving HIV drug by 5,000% — is by all accounts terrible. Shortly before he was charged with securities fraud in Dec. 2015, Shkreli notoriously paid $2 million for the only copy of a Wu-Tang Clan album, seemingly with the sole intention of rubbing fans' noses in it. 
Predictably, perhaps, he also endorsed (for a second) President-elect Donald Trump, of whom Duca is not a fan. All of which might explain her resounding no — Duca could not be reached for comment.
Shkreli's account is no longer visible, but the screenshots Duca tweeted at Twitter co-founder and CEO Jack Dorsey tell part of the story. After being rebuffed, Shkreli added a goading note to his Twitter bio: "also i have a small crush on @laurenduca (hope she doesn't find out)." 
According to the Verge, he then updated his profile picture to one of Duca and her husband but with Shkreli's face edited onto her husband's body. He replaced his cover photo with a collage of her face, which — according to the Cut — was allegedly "fan-made." 
The pharma bro told the Verge that he wasn't harassing Duca — because she hadn't directly told him to cut it out, he couldn't knowingly be acting "against Duca's will." According to the Verge, Twitter sided with Duca, suspending Shkreli at approximately 1 p.m. Eastern after she called out his behavior to Dorsey. 
"He's an entitled creep and absolutely deserves to have his account suspended — perhaps indefinitely," Duca told BuzzFeed News. 
Looks like Shkreli will have to find some other way to pass the time while he awaits his fraud trial in June. Doubtless he will think of something, and that something will be infuriating.