This Emma Watson 'Beauty and the Beast'-inspired doll is creeping everyone out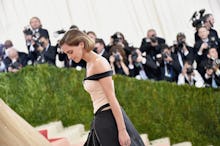 The Emma Watson-starring, live-action remake of Beauty and the Beast rolls out in March 2017, and with it comes the inevitable deluge of Disney merchandise — some of which is wildly variable in quality, according to Internet commenters.
Earlier this week, doll collector William Herrington posted a photo of one particular doll to photo-sharing website Flickr, calling it "creepy af. Gonna pass."
According to BuzzFeed, Herrington found the doll at the JCPenney at Mesa Mall in Grand Junction, Colorado.
"I knew that Disney Store's live-action dolls are never 100% accurate to the actors, but this one was atrocious!" he told the site. "Her face was shiny and covered in freckles (that looked more like a skin disease) and her head looked like it was being ripped open and torn where the hair was rooted into the head."
As the image quickly spread across the internet, users noticed something else: The doll looked not like Watson, but eerily like pop star Justin Bieber.
The resemblance really is uncanny:
Here's some photo evidence for the unconvinced:
Hopefully, this monstrosity will never make it into any Toy Story crossovers.