Canadian judge rules anti-abortion group's ads risk "psychological harm" to women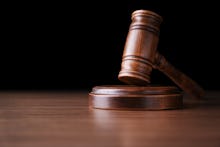 A Canadian judge has ruled that an anti-abortion group cannot run its advertisements on the sides of city buses because the ads' graphic imagery and message risked doing psychological damage to women, the Canadian Press reported. 
The Canadian Centre for Bio-Ethical Reform originally proposed an ad that depicted a gestating fetus with the words "Growing... Growing... Gone," to run in the Alberta city of Grande Prairie.
"Abortion kills children," the ad read. "End the killing." 
The CCBR sued Grande Prairie for the right to run its ads, citing freedom of speech granted by the Canadian Charter of Rights and Freedoms. But in her Dec. 22 ruling, Court of Queen's Bench Justice C.S. Anderson upheld the city's decision on the grounds that the advertisements vilified "an identifiable class: women who have chosen to exercise their legal right to have an abortion," the Edmonton Journal reported. 
Anderson wrote that the ad was "likely to cause psychological harm," not just to women who'd opted to end pregnancies, but also to those who were thinking about doing so, the Canadian Press reported. Further, the ads could frighten children who might not know what abortion means, but "can read and understand that 'something' kills children."
"Expression of this kind may lead to emotional responses from the various people who make use of public transit and other users of the road, creating a hostile and uncomfortable environment," Anderson wrote, according to the Canadian Press. 
Abortion opponents were displeased with the ruling. CCBR's legal counsel, Carol Crosson, told anti-abortion outlet LifeSite that Anderson's ruling "flies in the face of all previous jurisprudence on free speech" and that the CCBR plans to appeal. 
It's not the first time the CCBR has gone to court over this particular ad. The group went to court in February after the Ontario city of Peterborough declined to display the image on its transit buses, the Peterborough Examiner reported. In August, CCBR won, and Peterborough residents can expect to see the ads up before the end of March, according to the Canadian Press. Abortion rights groups are hoping the Grande Prairie decision sets a precedent other cities can follow.
That anti-abortion groups might wage similar battles for control over public space in the United States is not a difficult prospect to imagine, especially at a moment when reproductive rights have perhaps never been so contentious. The state-by-state crackdown on abortion access is escalating with the promise of an anti-abortion administration and emboldening lawmakers. Anti-abortion billboards are already familiar fare throughout much of the country; images like those presented in the CCBR ads can be seen along highways nationwide, but are rarely seen on the sides of city buses. 
When it comes to public transit, individual agencies have tended to restrict what can and cannot be advertised by revising their rules. As WNYC reported, both Philadelphia's transit system, SEPTA, and New York's MTA have worked around the posting of Islamophobic advertisements by making their ad spaces limited public forums, which means restrictions are placed on who can use that space and to what end. 
But the right to free speech is a difficult one to impede, and whether or not anti-abortion advertising in city space stands is more likely to come down to municipal ordinances and local politics. One thinks of Oklahoma, where state legislators recently proposed posting anti-abortion signs in public restrooms. Lawmakers abandoned the plan not because of the negative effect their signs might have had on women's mental health, but because of the financial burden it would have placed on small businesses. 
In abortion unfriendly states, the potential for "psychological harm" doesn't seem to factor into the legislative equation.