7 volunteers in Tampa were arrested for feeding homeless people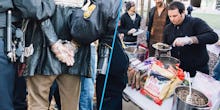 Sharing is caring... or is it? 
On Saturday, seven people who were giving food to homeless and hungry people in Tampa, Florida, were arrested, the Tampa Bay Times reported. The people, who were part of the group Tampa Food Not Bombs, were serving food in Lykes Gaslight Square Park and did not have a permit to do so. 
"We're doing an act of kindness and mutual aid, and that should not be criminalized," Jimmy Dunson, one of the people arrested, told the Tampa Bay Times. 
Food Not Bombs is a volunteer organization that serves vegan and vegetarian food to homeless and hungry people in cities across the world. (The group does not serve meat because it wants to "stop the exploitation" of both people and animals, the Food Not Bombs website states.) Volunteers collect food that can no longer be sold from bakeries, grocery stores and food markets, and distributes it. The grassroots movement began in 1980 with a group of anti-nuclear activists in Cambridge, Massachusetts. 
But things start to get messy when laws prohibit well-intentioned people from distributing food. In Tampa, it's illegal to pass out food without a permit in a city park, the Tampa Bay Times noted. 
A Facebook user named Kriz Patridge posted a live video of volunteers getting arrested on Saturday. In the video, one volunteer says, "help yourselves" to the people in line for food while police led the volunteer away. 
In a photo posted to the Tampa Food Not Bombs Facebook page, a person wearing plastic gloves is handcuffed by police. 
Another photo shows two volunteers getting handcuffed. 
This isn't the first time Food Not Bombs volunteers have been arrested while feeding the hungry. Since the organization launched, there have been arrests in San Francisco, Los Angeles and Arcata, California, as well as Orlando, Fort Lauderdale and Tampa, Florida, Keith McHenry, co-founder of Food Not Bombs said in an email. McHenry said there were also arrests in London and Moscow, as well as Utrecht, Netherlands, and Minsk, Belarus. In Tampa, there have been two other waves of arrests involving Food Not Bombs volunteers, McHenry said. 
McHenry co-founded Food Not Bombs when he was working at a grocery store in Boston and gave out free food at public housing complexes that were just across the street from a laboratory that designed nuclear weapons, the Santa Cruz Sentinel reported. 
"According to the National Coalition of the Homeless, over 70 cities in the United States have laws limiting or banning the sharing of free meals outside to the hungry," McHenry said, explaining that the group has sporadically applied for permits in previous decades. "After some investigation, we realized that you do not need a permit to share food in public spaces as the food is a gift and none of us are paid... Gifts of legal items like toys, food, flowers are unregulated exchanges between people and are never to be regulated by the authorities."
The last arrest of Food Not Bombs volunteers in Tampa occurred in 2004, McHenry noted. Since the group has been providing food to the homeless and hungry on a weekly basis without problem for several years, a volunteer with the Tampa chapter told the Tampa Bay Times that the most recent arrests might have to do with the fact that Tampa is currently hosting the College Football Playoff National Championship and has thousands of visitors in town. 
While it seems like arresting volunteers means helping people is a criminal activity, some say the issue isn't so clear-cut. Feeding people off the street could be "unproductive" and "enabling" because "it keeps people out of recovery programs," Robert Marbut, a consultant working on issues of homelessness, told NPR in 2014. 
Food Not Bombs won't back down from its mission, though. "City governments are free to feed the hungry themselves if they wish, but because they do not attempt to meet the needs of their residents, they have no business telling those of us that are responding to the crisis when and where we should be sharing food," McHenry said. "Food Not Bombs will never stop sharing vegan meals with the hungry until war and poverty have ended."