Golden Globes Red Carpet Photos 2017: Women in tuxes, silver sequin gowns and more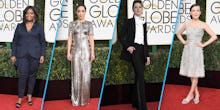 The 2017 Golden Globes, the first major award show to be held this year, kicked off with a bang as stars descended upon the red carpet at the Beverly Hilton in Beverly Hills, California.
Everyone from Natalie Portman (wearing Prada) to Kerry Washington (wearing Dolce & Gabbana Alta Moda, the first time the brand's couture collection has been worn on a runway, according to Washington) made it out to find out whether Annette Bening could edge out Emma Stone for best actress in a motion picture, comedy or musical and to see if Donald Glover could pick up his first win for best actor in a TV musical or comedy for the critically acclaimed series Atlanta.
The best dressed lists that will emerge in the coming hours will be robust. Here is a quick overview of some of our early favorites:
Amy Adams, Priyanka Chopra, Natalie Porman, Janelle Monae
Chrissy Teigen, Donald Glover, Michelle Williams, Zoe Saldana
Reese Witherspoon, Emma Stone, Viola Davis, Sofia Vergara
This year also saw a few noticeable red carpet themes emerge, including tuxes for women (not a red carpet first) and a surplus of silver sequin gowns.
Take a look at some of our highlights below.
Women slayed the tux game.
Tuxes were a huge trend on this year's red carpet. "I love dresses; I'm not trying to protest dresses," Evan Rachel Wood told Ryan Seacrest on the carpet. "But I want young girls and women to know that they aren't a requirement. And that you don't have to wear one if you don't want to. Just be yourself, because your worth is more than that. So I said this year I'm going [as an] homage to Marlena Dietrich and Victor Victoria and David Bowie, 'cause it's his birthday."
Evan Rachel Wood
Kathryn Hahn
Octavia Spencer
Jill Soloway
Silver, sparkly gowns dominated.
This year's red carpet was inundated with silver, sparkly gowns, from best actress nominee Ruth Negga (Loving) to lead actress in a comedy nominee Tracee Ellis Ross (Black-ish).
Ruth Negga
Regina King
Millie Bobby Brown
Tracee Ellis Ross
Nicole Kidman
Sarah Paulson
Gina Rodriguez