Black actors won big at the 2017 Golden Globes — but fell short of a huge record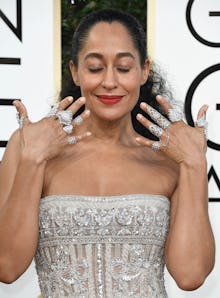 Ahead of Sunday night's Golden Globes, it looked like a major record might be broken. But despite three big wins for black actors, the record remains unbroken.
The 2017 Golden Globes gave awards to three black actors: Tracee Ellis Ross (for Black-ish), Viola Davis (for Fences) and Donald Glover (for Atlanta). This falls short of the highest number of Globes given to actors of color in a single night.
That record was set in 2007, which also saw three black film actors win Globes — Eddie Murphy and Jennifer Hudson for Dreamgirls, plus Forest Whitaker for The Last King of Scotland. Joining them was Latina actress America Ferrera, who won for her TV series Ugly Betty.
The record looked set to fall by pure virtue of how many frontrunners of color there were in many categories. Yet seemingly surefire winners Courtney B. Vance (The People vs. O.J. Simpson: American Crime Story) and Mahershala Ali (Moonlight) lost their categories — to Tom Hiddleston for The Night Manager and Aaron Taylor-Johnson for Nocturnal Animals, respectively.
Much has been made this awards season of an influx of films that better represent a diverse landscape, leading some to declare #OscarsSoWhite as a campaign over. But the creator of that campaign, April Reign, fought back alongside others against that idea. One inclusive year does not indicate a permanent fix for Hollywood's diversity problem.
That said, even without the record falling, these wins are worth celebrating. There have been 33 years without a single nonwhite winner in Golden Globes history — including as recently in 2014. These wins came in the same year that saw works like Atlanta and Moonlight recognized in a major way. Every bit of progress counts, and these are nice steps indeed.