Golden Globes 2017: 'Moonlight' wins best picture - drama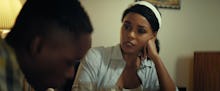 Moonlight was an instant sensation the moment it began making festival rounds. Now, as we approach the end of awards season, the film — a stirring tale of a young black man growing up in Miami — has beat out Manchester by the Sea, Lion, Hacksaw Ridge, and Hell or High Water for the Golden Globe for best picture - drama.  
The drama, directed by Barry Jenkins, follows Chiron through three pivotal moments of his life: as a child, as a teenager and as a young adult. From a young age, Chiron knows he's different and feels isolated by his peers and his mother, who falls into addiction. We learn that he's gay, but Moonlight is not solely a complex portrayal of his understanding of his sexuality, but a meditation on identity and masculinity. 
Jenkins and the cast of the film — including Mahershala Ali, Naomie Harris, and Janelle Monae — accepted the Golden Globe for the film. "All I have to say is tell a friend, tell a friend, tell a friend," Jenkins said about his film.