Is Jimmy Fallon's Golden Globes teleprompter down?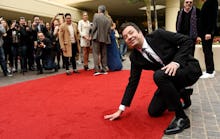 The 74th Annual Golden Globe Awards has only just begun, and we may have already hit a snag. Following Jimmy Fallon's opening musical, the host declared that his teleprompter was down and proceeded to frantically attempt the monologue on his own. 
Whether the teleprompter is actually down or if this is a joke, perhaps in reference to Fallon's tenure on Saturday Night Live, where he did spend an awfully large amount of time looking at the monitor, is unclear. 
Either way, Fallon was able to complete his monologue, and the show has already handed out its first award, to Aaron Taylor-Johnson for Nocturnal Animals. And if Fallon had to do his monologue without a teleprompter, at least he was able to throw in one Game of Thrones, Donald Trump joke. 
Jimmy Fallon was also able to find some humor in the moment, making a Mariah Carey, New Year's Eve reference, and suggesting that Dick Clark Productions purposely sabotaged the opening monologue. 
Mic will have ongoing coverage of the 74th Annual Golden Globes. Stay tuned!