'Hidden Fences' is the film that the Golden Globes and Twitter couldn't stop talking about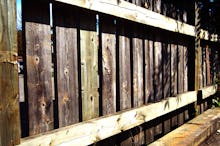 Hidden Figures and Fences: One is a movie about the black women who made it possible for the United States to go to space. The other has a Viola Davis performance that's out of this world. But, are they the same movie? 
A casual Golden Globes viewer might think so, given that Hidden Figures and Fences were amalgamated into one movie — Hidden Fences! — more than once throughout the ceremony. 
First, during the red carpet pre-show, MSNBC host Jenna Bush asked Pharrell about his nomination for best original score for Hidden Fences. Then, during the formal telecast, Michael Keaton shouted out Octavia Spencer's work in Hidden Fences, though she actually stared in Hidden Figures.
These are the casts for the respective films Hidden Figures and Fences: 
Given that the two films depicting the black experience in America, many people on Twitter couldn't help but feel it was a little odd that these two particular films had been consolidated into one.
First of all, what is a hidden fence? 
People also thought of possible plots for the film.
Some Twitter users even thought of other mash-up films that could stand up in a movie marathon with Hidden Fences. 
If you're headed to the multiplex this weekend, make sure to ask for Hidden Figures or Fences. But, if you do happen to see Hidden Fences, the cast is sure to be lit.