Golden Globes 2017: Watch Ryan Gosling's sweet tribute to Eva Mendes' brother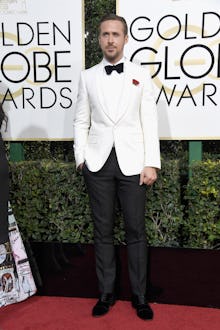 After winning the Golden Globe for best performance by an actor in a motion picture, comedy, Ryan Gosling took the stage and gave an unexpected speech—claiming that he wouldn't have been able to accept the award for his work in La La Land if it were not for Eva Mendes. Gosling explained that Mendes not only had to take care of their two daughters while he was filming, but her brother, as well, who recently passed away from cancer.
After thanking his co-star Emma Stone and director Damien Chazelle, Gosling had some words for another figure in his life. "While I was singing and dancing and having one of the best experiences I've ever had on a film, my lady was raising our daughter, pregnant with our second, and trying to help her brother fight his battle with cancer," Gosling stated. 
In La La Land, Gosling stars as Sebastian, an aspiring jazz club owner who falls in love with Mia, a struggling actress. In addition to his win, La La Land has already won for best screenplay - motion picture (Damien Chazelle), best original score - motion picture (Justin Hurwitz),  best original song - motion picture (Justin Hurwitz), best director - motion picture (Damien Chazelle) and best performance by an actress in a motion picture - musical or comedy (Emma Stone)
Sunday, Jan. 8, 10:23 p.m. Eastern: This story has been updated.