You missed Ryan Reynolds and Andrew Garfield kiss When Ryan Gosling won his Golden Globe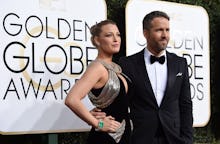 While there were two men named Ryan up for best performance by an actor in a motion picture - musical or comedy at the 74th Annual Golden Globe Awards, only one could walk out with the prize. In the end, it was Ryan Gosling, who won the award for his performance in La La Land, coming out on top over Ryan Reynolds, nominated for Deadpool. 
If you are a fan of Ryan Reynolds and his work as the irreverent anti-hero Deadpool, do not worry. Reynolds does not seem to be taking the loss too hard. While you probably did not catch this during the live broadcast, Reynolds can be spotted kissing Andrew Garfield, as Gosling walks up the steps to accept the award. And do not worry about Blake Lively, she was sitting right there, laughing, apparently not feeling very threatened at all.
You can catch the passionate kiss around the 7 second mark in the YouTube video below:
Mic has ongoing coverage of the 74th Annual Golden Globe Awards. Stay tuned!