Donald Trump calls Meryl Streep "over-rated" in his most inaccurate tweet to date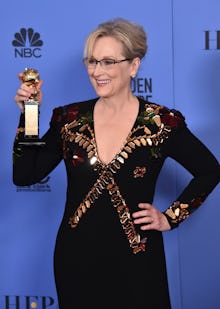 President-elect Donald Trump called Meryl Streep "over-rated" in a Monday morning tweet thread after the Hollywood legend called Trump out at the Golden Globes for mocking a disabled reporter during the presidential campaign. 
"Meryl Streep, one of the most over-rated actresses in Hollywood, doesn't know me but attacked last night at the Golden Globes," Trump tweeted. "She is a Hillary flunky who lost big."
Streep — the most Academy Award-nominated actor ever — used her own bully pulpit while accepting a lifetime achievement award to chastise Trump for mocking a disabled New York Times reporter during the campaign, saying Trump's behavior provides cover for others to treat the most vulnerable members of society without dignity or respect.
"This instinct to humiliate, when it's modeled by someone in the public platform, by someone powerful, it filters down into everybody's life, because it kinda gives permission for other people to do the same thing," Streep said. "Disrespect invites disrespect, violence incites violence. And when the powerful use their position to bully others, we all lose."
Trump, however, again denied mocking the reporter — despite video evidence that clearly proves he mimicked the reporter's disability in the way he moved his hand.
"For the 100th time, I never 'mocked' a disabled reporter (would never do that) but simply showed him 'groveling' when he totally changed a 16 year old story that he had written in order to make me look bad," Trump wrote on Twitter. "Just more very dishonest media!" 
Donald Trump's team then doubled down on Trump's attack, saying Streep was using her platform to divide rather than unite the country.
"I'm concerned that somebody with a platform like Meryl Streep's is also I think inciting people's worst instincts when she won't get up there and say I didn't like it but let's try and support him," Trump spokeswoman Kellyanne Conway said on Fox News — completely ignoring the fact that Trump uses his own platform to bully and attack those who disagree with him. 
Irony is officially dead.