At the 2017 Golden Globes, actress Lola Kirke made a bold anti-Paul Ryan fashion statement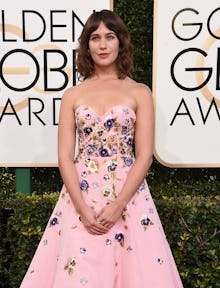 At the 2017 Golden Globes on Sunday night, there were plenty of nice, pretty dresses: Ruth Negga in silver, Natalie Portman in chartreuse, Viola Davis in yellow. 
Mozart in the Jungle actress Lola Kirke also wore a very pretty dress, pink with embroidered flowers and designed by Andrew Gn. But rather than leave it at that, Kirke decided to add a bit of bold, to-the-point political flair to it as well. 
Affixed to the top of her dress was a small pin reading "Fuck Paul Ryan." 
Succinct enough. 
In an interview with Elle, Kirke laid out her reasons. 
"I'm wearing a 'Fuck Paul Ryan' pin," she told the magazine. "Paul Ryan is talking about defunding Planned Parenthood. I think that, along with a number of other decisions that are being talked about being made by the new administration, is atrocious. As a person with a platform, no matter what size it is, I think it's important to share your views and maybe elevate people that might agree with you, that maybe won't feel like they can have the same voice. My body my choice, your body your choice."
In addition to the pin, Kirke also left her underarms unshaved. 
And don't think this pin was any last-minute decision. According to Kirke, the pin was custom made for her dress, matching the pink and blue tones in her gown almost exactly. 
"My stylist and her son made them for me," she told Elle. "They made me one in the Planned Parenthood colors yesterday that I was wearing. I'm sure there will be other issues to support, but this one is really important."
Of course, Kirke's wasn't the only political statement made on Sunday night at the Globes. When Meryl Streep accepted the Cecil B. DeMille Award for lifetime achievement, she gave a stunning speech calling out Donald Trump specifically, and his mocking of a reporter with a disability. 
"Disrespect invites disrespect. Violence incites violence," Streep said. "And when the powerful use their position to bully others, we all lose." 
Clearly, although the Golden Globes is supposed to be all about entertainment, a lot more was on people's minds last night.