Golden Globes 2017 acceptance speeches: Watch all the memorable awards show moments here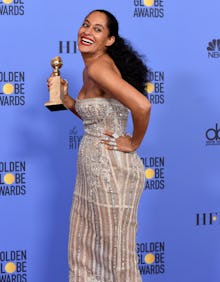 Sunday night's 74th Annual Golden Globe Awards, the first major night of the 2017 awards show season, had no shortage of memorable moments. And while Meryl Streep's epic takedown of Donald Trump was perhaps the year's most stirring, plenty of other winners delivered noteworthy speeches. Here are a few of the best.
Tracee Ellis Ross (Black-ish), best actress in a TV series, musical or comedy
Tracee Ellis Ross won for her role on Black-ish, becoming the first black woman to win in her category since Debbie Allen in 1983. In her acceptance speech she gave a shoutout to "women of color and colorful people whose stories, ideas and thoughts are not always considered worthy and valid and important."
Ryan Gosling (La La Land), best actor in a motion picture, musical or comedy
Ryan Gosling won the Golden Globe for best actor in a motion picture, musical or comedy for his role in La La Land, and his acceptance speech was a heartfelt tribute to his partner, actress Eva Mendes. 
"While I was singing and dancing and playing piano and having one of the best experiences I've ever had on a film, my lady was raising our daughter, pregnant with our second and trying to help her brother fight his battle with cancer," he said. 
"If she hadn't taken all of that on so I could have this experience, it would surely be someone else up here other than me today, so, sweetheart, thank you."
Hugh Laurie (The Night Manager), best supporting actor in a series, limited series or motion picture made for TV
After winning a Golden Globe for his role in The Night Manager, Hugh Laurie used his acceptance speech to call out Donald Trump's anti-immigrant, anti-press sentiments.  "I won this at the last ever Golden Globes," he said. "I don't meant to be gloomy, it's just that it has the words Hollywood, Foreign, and Press in the title, I just don't know what — I also think that to some Republicans even the word association is slightly sketchy."
Viola Davis (Fences), best supporting actress in a motion picture
Viola Davis won the Golden Globe for her powerhouse performance in Fences, and she used her acceptance speech to make a powerful statement about representation in storytelling, speaking about how she saw her father in the character played by her co-star, Denzel Washington. "To the original Troy, my father Dan Davis," she said. "Born in 1936, groomed horses, had a fifth-grade education, didn't know how to read until he was 15. But you know what? He had a story and it deserved to be told — and August Wilson told it."
Claire Foy (The Crown), best actress in a TV series, drama 
Claire Foy won a Golden Globe for her role playing a young Queen Elizabeth II in The Crown, and in her speech she thanked the queen and hinted at the importance of women leaders in today's world. "But I really, really, really wouldn't be here if it wasn't for some extraordinary women, and I'm going to thank them," she said. "One of them is Queen Elizabeth II. She has been at the center of the world for the past 63 years, and I think the world could do with a few more women at the center of it, if you ask me."
Donald Glover (Atlanta), best actor TV series, musical or comedy
Donald Glover had a stellar night at the Golden Globes, and his first acceptance speech of the night, for his show Atlanta, was a celebration of the culture showcased in his stories. "I really want to thank Atlanta, and all the black folks in Atlanta, for real, just for being alive and doing just amazing and being amazing people," he said. Glover also took home the award for best actor in a TV series, comedy or musical.
Meryl Streep, Cecil B. DeMille Award
By far the most memorable speech of the night came from screen legend Meryl Streep (who was introduced by an effusive Viola Davis). She accepted a lifetime achievement award on Sunday night, but used her time at the podium to deliver a powerful condemnation of President-elect Donald Trump. First she called out some of the actors and actresses in the crowd, making sure to mention where they were from before they became Hollywood legends. Then she moved on to the person she said delivered the performance that "stunned" her in 2016.
It sank its hooks in my heart. Not because it was good; there was nothing good about it. But it was effective and it did its job. It made its intended audience laugh, and show their teeth. It was that moment when the person asking to sit in the most respected seat in our country imitated a disabled reporter. Someone he outranked in privilege, power and the capacity to fight back. It kind of broke my heart when I saw it and I still can't get it out of my head, because it wasn't in a movie. It was real life. And this instinct to humiliate, when it's modeled by someone in the public platform, by someone powerful, it filters down into everybody's life, because it kinda gives permission for other people to do the same thing. Disrespect invites disrespect, violence incites violence.
In one of the night's most heartwrenching moments, Streep tearfully closed out her speech with a quote from the late Carrie Fisher: "As my friend, the dear departed Princess Leia, said to me once, take your broken heart, make it into art."