Yes, women in suits slayed at the 2017 Golden Globes. But in 2018, we want men in dresses.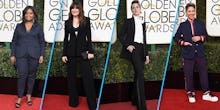 Blame it on Hillary Clinton, but to the 2017 Golden Globes on Sunday night, many women felt compelled to ditch the typical dress, and opt for the simple and timeless suit. 
Octavia Spencer donned a curve-hugging silky navy blue suit by Laura Boschi.
Transparent creator Jill Soloway wore a slouchier red and blue suit from Gucci. 
Kathryn Hahn showed up in just a suit and a bra. 
Felicity Huffman wore a spin on the suit — a jumpsuit — and told red carpet commentators that it was all in honor of Hillary Clinton. 
"I got a pantsuit in honor of Hillary," she said. "Love you, Hillary. I'm with her."
And then there was Evan Rachel Wood, who told E! News that she was not only wearing this custom Altuzarra tuxedo as an ode to the gender-defying David Bowie, whose birthday was coincidentally on Sunday too, but because she wanted young girls to know that dresses are not their only option. 
"I love dresses; I'm not trying to protest dresses," Evan Rachel Wood told Ryan Seacrest on the Globes red carpet. "But I wanted to make sure that young girls and women knew that they aren't a requirement. And that you don't have to wear one if you don't want to. And to just be yourself, because your worth is more than that. So I said this year I'm going [as an] homage to Marlene Dietrich and Victor/Victoria and David Bowie, 'cause it's his birthday."
All these women looked cool, didn't they? Effortless. Sexy. Daring. Interesting. Smart. All the most enviable descriptors. 
But here's the thing: Women have proven time and time again that wearing a suit is cool as hell. It's now time for men to get the hint. It's time for men to get the license or even just the courage to deviate from gender norms in their clothing choices just like Janelle Monáe, Grace Jones and Katharine Hepburn have for years (and looked damn good doing it). 
By next year, 2018, we need a man in a skirt at an awards show. We need a man in heels. We need a man in a dress. 
We know that they would look just fine. To the 2016 Golden Globes, American Horror Story actor Denis O'Hare wore nail polish and platform heels with his suit. 
And yeah, he looked fucking cool. 
As far as men in skirts go, we know that can look damn good too. Not only have men seen celebrities like Ewan McGregor and Gerard Butler and Alan Cumming rock kilts, but then there's Jaden Smith, who looks like this: 
So really, have no fear, guys. 
Women have been proving the benefits of disregarding gender rules when it comes to dressing for literal decades. It's about time we get a high-profile man on a red carpet earnestly wearing a skirt.
Imagine the press tidal wave if someone like, we don't know, Rami Malek showed up in platforms. Or what if Idris Elba painted his nails? Or what if unproblematic bae Ryan Gosling wore a skirt? 
Sure, it's not just up to the stars themselves to embrace a more daring turn on fashion. More fashion designers should probably start showing skirts and heels and dresses in sizes more apt for men on runways before any guy makes his debut in a dress on a red carpet, but dressing without one gender in mind isn't about following the rules, is it? 
Find your inner Braveheart or Janelle Monáe or Jaden Smith. 
Women shouldn't be the only ones embracing dressing without one gender in mind. It's time to get creative, guys. It'll be 2018 before you know it.