Oscars 2017 Predictions: How will the Golden Globes affect the Oscar race?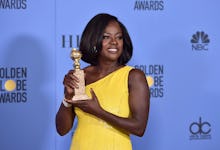 Sunday's 74th annual Golden Globe Awards was an event marked most by strange mixups, huge but infrequent breakout moments and a crop of winners that disappointingly failed to break any diversity records. It was, in some ways, a fairly boring show, with a host who tripped up at the starting gate.
Nevertheless, the morning after is the time to look at the winners and parse what their success means — not just for the Globes themselves, but looking ahead at the Oscars. Whose stock just rose in academy voters' estimation? Whose chances are looking shakier? Let's break it down.
Aaron Taylor-Johnson is in
Aaron Taylor-Johnson's win for supporting actor in a motion picture was hard to swallow Sunday night. It's disappointing to consider that a loathing and loathsome piece of work like Nocturnal Animals has been feted by a major awards organization. (It's truly horrid when you consider Taylor-Johnson beat Moonlight's Mahershala Ali.)
But this is not the final stop on Taylor-Johnson's awards journey. At this point, he has to be considered a safe bet for a nomination Oscar morning; academy members are voting right now, and this is a highly visible win. He'll likely be joined by Ali (who, despite this setback, will likely still win the Oscar), Jeff Bridges for Hell or High Water, Dev Patel for Lion and either Hugh Grant for Florence Foster Jenkins or Lucas Hedges for Manchester by the Sea. At this point, we'd recommend placing any bets on the former.
Viola Davis is a lock
It took me a bit longer than most to settle into the idea that Davis was a stone-cold lock for the Oscar. Michelle Williams won too many early critics prizes for Davis to seem like an easy bet. But her win on Sunday night, coupled with an elegant speech, make it seem more than ever like she's our winner in supporting actress. Thank goodness, too — hers is the performance of the year.
Things just got harder for Natalie Portman
Something has seemed off about Jackie all awards season. Despite critical love, the film has been all but ignored for everything about it besides its star, Natalie Portman. That she was still considered a threat to win despite her film's weakness seemed a stretch, if not impossible.
The Globes, however, threw a wrench into that narrative. Portman lost her best actress in a motion picture, drama, category to Isabelle Huppert for Elle, while her closest rival, Emma Stone, waltzed to the stage to pick up the corresponding musical or comedy prize for La La Land. We'll get to Huppert in a second, but Stone just took a major leap ahead of Portman. The former Oscar winner (for Black Swan) will need a win with the SAG Awards to keep her chances of winning alive.
Isabelle Huppert looks like a safe bet
Huppert was one of the night's few genuinely shocking, thrilling moments. With her Globe win, plus the very rare critics award win trifecta at the New York Film Critics Circle, the Los Angeles Film Critics Association and the National Society of Film Critics, the French actress is looking like a near-certainty to join the best actress race at the Oscars. (If she does, look for Portman, Stone, Amy Adams for Arrival and Meryl Streep for Florence Foster Jenkins to join her.)
That said, it's actually not unheard of for an actress to win the globe and that critics award triple play, and still not be nominated for the Oscar. Sally Hawkins achieved the same feat in 2009 for Happy-Go-Lucky. On Oscar nomination morning, she was snubbed. Huppert likely won't fall victim to the same fate, but it's important to remember that this win doesn't make her a sure thing.
La La Land is as secure as ever
After a record-breaking sweep that handed La La Land seven Golden Globes, it's easy to write the narrative that it's all over, and the next month and a half will be a march toward the Oscar. The problem is that the race didn't really change much Sunday night. La La Land was already a near-certainty to win at the Oscars. 
There is an interesting caveat, however: The Globes have failed to predict the Oscars' best picture winner the last two years (awarding Boyhood and The Grand Budapest Hotel over Birdman in 2015, and The Revenant and The Martian over Spotlight in 2016). Might they once again part ways with the academy? Probably not.
Already, it seemed like La La Land was facing down three potential challengers: Moonlight, Hidden Figures and its own backlash. The latter has proven to be a non-factor among the only people who matter in this equation: voters. The Globes sweep perhaps irritated some viewers online, but that won't matter in the long run. Meanwhile, Moonlight lost every prize it could to La La Land — screenplay, score and director — and lost both its acting nominations, too. Frankly, its win for best picture, drama, felt like it came out of nowhere considering how badly it fared otherwise. Both it and Manchester by the Sea, which won Casey Affleck a best actor prize, feel like happy-to-be-nominated non-winners now.
That leaves Hidden Figures as the only thing in La La Land's way, and it remains something of a long-shot. We stand by that its release strategy is remarkably savvy, stunning at the box office and capturing buzz just as Oscar voting begins. It's as feel-good a film as La La Land is — perhaps more, considering La La Land's bittersweet twists — and will excite voters. Plus, it has a major shot at SAG's top award, for which La La Land isn't even nominated. Such a win could give Hidden Figures major momentum.
All that said, Hidden Figures is just now getting into the race, while La La Land just finished a tremendous first lap. The movie musical remains the likeliest pick for best picture. Just don't let anyone tell you the Globes were definitive; if this race is already over, it already was long before Sunday night.