Donald Glover used his 'Atlanta' Golden Globes speech to praise true ATL royalty: Migos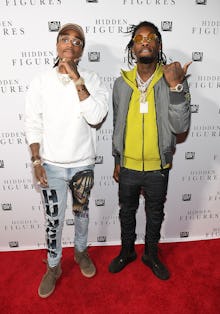 Real recognize real. Sunday night at the Golden Globes, Donald Glover, mastermind of Atlanta, accepted the award for best television series, musical or comedy. During his speech, Glover gave credit to the city of Atlanta and black community in Atlanta for being amazing people. He also singled out three Atlanta legends in particular: Quavo, Takeoff and Offset, the three rappers that make up Migos.
"I really want to thank the Migos," Glover said, "Not for being in the show — not for being on the show, but for making 'Bad and Boujee.' Like, that's the best song ever." Glover's far from alone; as soon as the words left his mouth, Twitter erupted in "rain drop, drop top" affirmations. 
If Hollywood wasn't familiar with Migos before, they'll likely understand the glory soon.
Glover elaborated on his love for Migos later in the evening, telling reporters backstage why he felt the need to shout out the group. "I think they're the Beatles of this generation, and I don't think they get a lot of respect beyond Atlanta," he said, according to Vulture. 
With "Bad And Boujee," the group has the No. 2 song in the country right now, so it's clear the love isn't only coming from the ATL. What Glover really may be trying to do is help it get the last little bump it needs to hit No. 1. He's not the first to make the Beatles comparison, either. Complex ran down 10 reasons why "Migos are better than the Beatles," responding to months of spirited memes to that end. Still, releasing fire mixtapes since 2011 and single-handedly redefining the sound of modern trap, Migos still have never hit No. 1. Their influence has been felt in culture nonetheless. 
Without Migos, white people would probably have no idea what the dab is, or know a million ways to rhyme "Versace" right off top. They've recreated so much of the Atlanta trap scene in their own image, and it seems clear the group is still only rising.
2017 is going to be Migos' year. They've already released the incredible "T-Shirt" video, where the three rappers appear dressed in bear skins and diamonds, like iced-out Game of Thrones characters. They've got a new record, the aptly named Culture, on the way, and they're inches away from having a No. 1 record on their hands to promote it.
Glover is just one more cosign in the bag for the group — perhaps their last before they transcend their Atlanta scene. Migos will soon be worldwide, bringing culture, joy and dabs to every corner of the globe.