Why was Brad Pitt at the 2017 Golden Globes?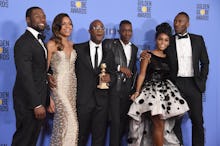 Several actors and celebrities took to the Golden Globes stage to give short presentations on the films nominated in both the best comedy and drama categories. Casey Affleck, who led Kenneth Lonergan's Manchester by the Sea (and was a winner last night), showed a clip from his film, and Dev Patel and Sunny Pawar from Lion also showcased theirs — but why did Brad Pitt show up to present the clip for Moonlight? 
On the surface Pitt has nothing to do with Moonlight, which ultimately took home the best picture, drama award. But the film may not have existed without his input. Moonlight was co-produced by Pitt's production company, Plan B Entertainment, alongside A24. Back in 2001, Pitt co-founded the company with ex-wife Jennifer Aniston and Brad Grey. The production company has given us movies like Selma and The Big Short.
"It is Barry Jenkins' profound belief that we all stand at the threshold of change and forgiveness," Pitt said when introducing the film, which only took home one award, despite being nominated for six. 
In addition to its best picture, drama nomination, Moonlight was also nominated for best performance by an actress in a supporting role (Naomie Harris), best performance by an actor in a supporting role (Mahershala Ali), best director (Barry Jenkins), best screenplay (Barry Jenkins) and best original score (Nicholas Brittell).