Christian Siriano responds after Golden Globe nominee Chrissy Metz ditches his custom gown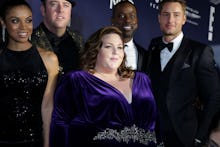 Christian Siriano has developed a strong reputation for outfitting the bodies of stars that do not fall under the prototypical Hollywood sample size. He did it for Danielle Brooks at the 2015 Emmys, for Leslie Jones at the Ghostbusters premiere, for Queen Latifah at the Princess Grace Awards Gala 2016 and for Kathy Bates at the 2016 Emmys. Clearly, the man knows how to stitch a head-turning garment for women of varying sizes.
Though he outfitted everyone from Issa Rae to Rachel Bloom to Angela Bassett during Sunday night's 74th annual Golden Globe awards, one star, This Is Us nominee Chrissy Metz, pointedly opted against wearing the designer. 
Not entirely an odd decision, celebrities make last minute outfit changes all of the time. The difference here: how outspoken Metz had been in the week leading up to the awards ceremony about her choice between not one, but two custom Siriano gowns.
The pair even invited an E! News camera crew inside her dress fitting.
The question seemed to be whether Metz would opt for Siriano's more classic, old Hollywood ruby gown...
...or the more drape-y sea foam gown...
"You have two winning choices right now," host Carissa Loethen Culiner told Metz. "Yeah," Metz responded, "I'm a lucky girl."
Come Sunday, she opted for neither, instead wearing a deep purple velvet dress from a relatively unknown designer, Project Runway Season 10 contestant Nathan Paul.
"[Nathan Paul is] a new designer," she told Glamour. "I had a couple choices for dresses, which, wow, I didn't think I'd have — what an honor. And I just was like, 'I want to feel comfortable, I love purple, why the hell not?' It spoke to me."
"They chose to go another way after we made two custom options," Siriano said in a statement to Mic. "It's unfortunate that her team decided to do so much pre-press about us working together; I advised against it. I think she's a wonderful actress with perhaps too many people in her ear dissolving her confidence. I'm so happy she's getting the recognition she deserves."
Mic has reached out to Metz's team for comment.