Self-driving cars of 2017: The game-changing vehicles hitting the streets this year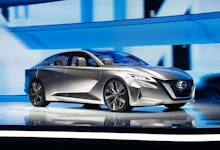 It's now the second week of January, which means the North American International Auto Show, set every year in Detroit, is now in full gear. The annual event brings together leaders, innovators and executives from the world's biggest carmakers and auto startups. 
One of the more popular trends to be rolled out (pun intended) at the 2017 showcase was self-driving cars and autonomous technology. This year could be a big milestone for the self-driving market as more and more traditional automakers move forward with plans to launch their own hands-free models and lawmakers begin regulating how autonomous vehicles can operate in public. For instance late last year Michigan became the first state to legalize the development and eventual sale of driverless cars. 
Here's a look at some of the big-ticket hands-free cars that debuted at this year's Detroit auto conference and other big tech to look for in 2017:
Google
Google's plans to help push self-driving cars mainstream could soon become a reality this year. Waymo, a car startup the internet giant spun-off from its major operations last year, debuted its autonomous system as part of the Chrysler Pacific at the Detroit auto show. 
The driverless technology features built-in sensors for enhanced vision, mapping and cameras. John Krafcik, Waymo's CEO, later told Reuters at the event that the company had managed to cut the price for its lidar devices —one of the priciest components used for its self-driving vehicles — by 90% to approximately $7,500 making it more affordable for other car manufacturers to use and implement in the near future.
The hands-free Chrysler cars are scheduled to hit public roads for testing later this month in California and Arizona.
Nissan 
Nissan's latest creation, the Vmotion 2.0, may only be a concept car designed for the showroom, but it shows just how far the Japanese carmaker has come with autonomous driving and how future sedans can take advantage of it. 
The edgy sedan came equipped with the company's ProPilot system, a semi-autonomous driving technology that covers everything from steering to accelerating and breaking on highways. Expect more of Nissan's vehicles to feature the technology in 2017. 
General Motors
General Motors isn't sitting on the sidelines when it comes to the ever-growing self-driving market. Last year the automaker invested $500 million in ride-sharing company Lyft — which is working on developing its own driverless cars — acquired Cruise Automation — an autonomous technology startup — and is test driving a fleet of enhanced cars in Arizona and California. 
More importantly, sometime later this year the company's hands-free Super Cruise technology will make its long-awaited debut in the 2017 Cadillac CT6. The driverless feature can control breaking as well as speed, and was originally slated to be released in 2016 before being pushed to 2017. 
BMW
Luxury carmaker BMW's autonomous vehicles are set to hit select German streets sometime this year. The carmaker will unveil a small fleet of its self-driving electric cars, called BMW iNEXT, for testing on public roads near Munich in 2017 with a full launch expected for 2021. 
The project is the first of what the company says will be a "whole range of highly-automated models from all BMW Group brands." According to the company's blog, the fully autonomous car will be tested in urban centers first before it pursues expanding.
Tesla 
Back in October 2016 Electric car maker Tesla decided to install self-driving hardware on all its cars — a feat the auto startup boasted made its vehicles safer than human-driven cars.
According to the company's blog, before the automaker activates its self-driving capabilities it will spend time analyzing real-world driving data, although Elon Musk, Tesla's CEO, promised one of its cars would drive across the country by the end of the year, proving that a public launch may happen sooner rather than later.
Volvo
In many ways, Swedish carmaker Volvo is already well ahead of some of today's most prominent global car manufacturers. Aside from its vehicle research program, known as Drive Me,  the company also plans to ramp up work in 2017 by giving 100 "real-world" customers near Gothenburg, Sweden an opportunity to drive its vehicles in public, with another separate round of pilots in China and the U.S planned for later in the year. 
Not to mention the company joined forces with ride-sharing app Uber in 2016 to develop cars that allow Pittsburg riders to call for autonomous rides on demand.