Trump confirmation hearing full schedule and dates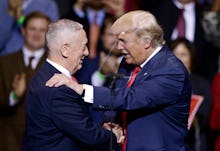 With Donald Trump set to be sworn in as president in fewer than two weeks, the new Senate is starting to get to the business of confirming the men and women he's tapped to lead his cabinet. While there is still some controversy swirling about the confirmations – the Office of Government Ethics has said the process is moving too quickly because nominees haven't submitted financial disclosure documents – ready or not, over the next several days and weeks, the Senate will start to look at the people who will be instrumental in setting and fulfilling the Trump agenda.
Here are some dates you should know if you want to follow the process (all times are Eastern).
Jan. 10: Jeff Sessions and John Kelly
Two potential major players in the Trump cabinet will come under scrutiny: nominee for attorney general Jeff Sessions and prospective secretary of homeland security, John Kelly. Senator Sessions will start hearings with the Judiciary Committee at 9:30 a.m. while Marine Gen. Kelly will meet with the Homeland Security and Governmental Affairs Committee at 3:30 p.m.
Sessions' hearing should be especially interesting. As a profile in the New York Times noted last week, he has a checkered past on issues of race and civil rights, which Democrats on the committee could hammer him on.
Jan. 11: Mike Pompeo, Elaine Chao and more
This is the day the confirmation process starts in earnest, with four potential presidential advisors taking the hot seat. Sessions will have his second hearing with Judiciary at 9:30 a.m., prospective CIA Director Mike Pompeo will come before the Intelligence Committee at 10 a.m. and education secretary nominee Betsy DeVos will speak to the Health, Education, Labor and Pensions Committee. Trump's selection for transportation secretary, Elaine Chao, starts her hearing with the Commerce, Science and Transportation committee at 10:15 a.m.
Jan. 12: Rex Tillerson, James Mattis and Ben Carson
Rex Tillerson, one of Trump's most important and controversial nominees will be set to begin his confirmation. Tillerson, whom Trump has tapped as his nominee for secretary of state, will almost certainly be questioned about his significant ties with Russia and the oil industry and will speak in front of the Foreign Relations Committee at 9 a.m.  
Also appearing on Jan. 12 will be secretary of defense nominee James Mattis, who will answer questions from the Armed Services Committee beginning at 9:30 a.m. Commerce secretary hopeful Wilbur Ross will appear before the Commerce, Science and Transportation Committee at 10 a.m. and former Trump rival Ben Carson, nominated to be the secretary of housing and urban development, will speak to the Banking, Housing and Urban Affairs Committee, also at 10 a.m. 
In addition to these confirmed hearings, ABC News notes that a few more are tentatively scheduled: a hearing for United Nations Ambassador nominee Nikki Haley on Jan. 18, and one for potential Labor Secretary Andy Puzder on Jan. 17.
If you want to watch these hearings in all their glory, they will be airing on CSPAN.