Panorama Lineup 2017: Frank Ocean and Solange to headline the NYC fest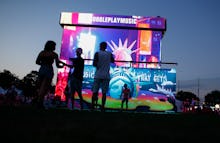 Stop the presses, stop your morning coffee — or take a quick sip and be ready to spit it out all over your computer in a comical spray. Panorama just announced its lineup for 2017, and it is lit. 
Frank Ocean, Solange, Tame Impala, Alt-J, Nine Inch Nails and A Tribe Called Quest are all set to headline — making for one of the most phenomenally stacked setups of the season. MGMT, Future Islands, Nicholas Jaar, Vince Staples, Justice, the Stranger Things musical masterminds S U R V I V E and Cashmere Cat are also part of the impressive lineup.
This is how you put a festival on the map.
Produced by the same organizers as Coachella, this summer will mark the second year for the young New York City festival. Goldenvoice seems determined to have everyone know the Panorama name by the end of the season. Its audiences will be treated to some serious rarities.
Since dropping his critical marvels Blonde and Endless in 2016, Frank Ocean notably hasn't done any major live performances. Solange also hasn't offered too many live interpretations of her intimate A Seat at the Table, though she will be performing at the Peace Ball, opposite Donald Trump's inauguration. Neither of these artists' albums seem suited for the generally turnt festival environment, which means they'll have to get creative for how they stage the music.
Tickets for Panorama will go on sale Friday, Jan. 13 at 10 a.m. Eastern, according to a press release for the festival. The shows will go down over the weekend of July 28 to July 30 at Randall's Island Park, the same location as Governors Ball, which released its lineup on Friday. It's clear Gov Ball has some serious competition for the title of NYC's most valuable festival, but we already know who wins: NYC music heads. Who's ready to get weird?