How much is a Golden Globe worth? How the prize compares to Oscars and other awards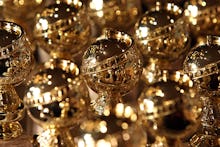 When Burt Reynolds was hard up for cash in 2014, he was probably glad to have won not one but two Golden Globe awards during his career — including a surprise win for his performance in 1997's Boogie Nights. 
That second globe netted the star nearly $22,000 alone, according to auction records. That's far more than the $14,080 he received for his first statuette, which he won in 1992 for his role in the television show Evening Shade. 
The disparity suggests that, as with Olympic medals and other prestigious awards, figuring out the worth of a particular Golden Globe has a lot more to do with who won the prize — and for what work — than it does with the statuette's underlying value. 
The actual cost of a Golden Globe 
Now, the Hollywood Foreign Press doesn't skimp on the Golden Globes dinner: This year's guests washed down their three-course meal with 125 cases of Moët & Chandon champagne, according to People. 
But when it comes to the actual statuettes? Those are produced for only about $800 a pop, Marketwatch reports, on par with the $500 to $900 per-unit cost of making an Oscar, according to Business Insider.
The price varies in part because gold prices can fluctuate widely over time.
But unlike, say, a Nobel Prize, the gold part of a Golden Globe is not actually solid gold — it has a zinc top that is merely plated in 24-karat gold, above a marble base.
Of course, once the Golden Globe in question has had its moment in the spotlight, it can be worth a whole lot more than the cost of its materials.
The benefits of a Golden Globe in dollars
It goes without saying not everyone is running off to sell their Golden Globes at the first opportunity — it's about the honor, after all. 
Well, that, and box-office receipts. 
Indeed, at least in terms of box-office receipts, the Globes might matter a whole lot for actors — maybe even more than the Oscars do, according to an analysis from data scientist Edmund Helmer for Reuters.
Helmer found that on average, Golden Globe winners receive a bigger boost at the box office than Oscar victors: about $14.2 million per film versus $3 million.
However, there are a few caveats to Helmer's findings. 
The first is that the Globes ceremony occurs earlier in the year — meaning there's more time for winning titles to rack up sales. The second is the Golden Globes are often seen as a trial run for the Oscars.
In other words, films that win Globes get lots of free press and hype — and often go on to win Oscars, making it harder to distinguish the effects of the awards separately.
Golden Globe auction prices 
Reynolds isn't the only actor to have auctioned off a Golden Globe, but the prices he fetched seem to be about typical for what major stars expect to get for their awards.
When Bonhams Auction House sold off a series of items belonging to Hollywood icon Natalie Wood, for example, her Golden Globe for the "Most Promising Newcomer" awarded at the 1957 ceremony sold for $17,500. That's notable in part because it was the actress' first major award.
Even a blank slate is relatively valuable, albeit to a lesser extent.
The auction house Julien's sold a blank trophy for a little more than $5,000 back in 2013.
Sign up for The Payoff — your weekly crash course on how to live your best financial life.