McConnell hypocritically tells Democrats to "grow up" and confirm Trump's nominees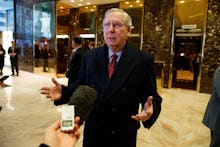 Senate Majority Leader Mitch McConnell told Democrats on Sunday they should "grow up" and confirm President-elect Donald Trump's cabinet picks — even without the requisite ethics clearances of some of the nominees.
"All of these little procedural complaints are related to their frustration at having not only lost the White House, but having lost the Senate," McConnell told CBS' Face the Nation on Sunday. "I understand that. But we need to, sort of, grow up here and get past that."
McConnell's comments came after Walter Shaub, who heads the Office of Government Ethics, sent a letter to Democratic Sens. Chuck Schumer and Elizabeth Warren saying that the confirmation hearing schedule — which six nominees slated to testify in a two-day period — has "created undue pressure on OGE's staff and agency ethics officials to rush through these important reviews," according to the Huffington Post. 
Sean Spicer, Trump's incoming press secretary, said the nominees have turned in their paperwork, but it's unclear whether the OGE will have time to review it all before the confirmation hearings this week.
But McConnell's demand for Democrats to vote on Trump's nominees before they are cleared by the Office of Government Ethics is quite hypocritical — given that he demanded this of President Barack Obama's nominees eight years ago.
In February 2009, after Obama was sworn in for his first term, McConnell sent a letter to then-Senate Majority Leader Harry Reid demanding that Republicans "expect" that the OGE vetting was "complete" and handed over to Senators "in time for review prior to a committee hearing."
Further, ethics experts say that if McConnell rushes Trump's nominees through confirmation, it could also come back to bite members of his party if any of Trump's nominees face ethical scandals down the road.
"We think it's really important that they do not give hearings until the nominees submit their financial disclosures and ethics agreements," Jordan Libowitz, a spokesman for Citizens for Responsibility and Ethics in Washington, an ethics watchdog, said in an interview. "There are so many potential problems they can avoid by waiting just a little bit." 
Libowitz added that the rapid-fire confirmation schedule, arranged without ample time for vetting, creates an air of suspicion around the nominees — whether or not they have any ethical conflicts. 
"There's no reason to rush them through before they've been properly vetted," Libowitz said. "You lose nothing by vetting the candidates. An ounce of prevention is worth a pound of cure, making sure everything is OK before there's a big problem, because if there ends up being an ethical problem after they're already approved, that's a bigger issue."