Nintendo Switch Direct Date: Livestream event details and all your questions answered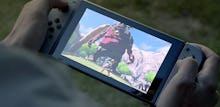 Nintendo's big Switch announcement is just a few days away! The company is set to livestream its latest Direct presentation on Thursday night (Eastern), with a Nintendo Treehouse event taking place on Friday morning.
Here's everything you need to know about the Nintendo Switch Direct date and presentation.
When is the date and time for both presentations?
Nintendo is holding its official Switch presentation in Japan on Jan. 13 at 1 p.m., which means you'll be able to watch the livestream on Jan 12 at 11 p.m. Eastern in the U.S. Nintendo of America is also planning a Treehouse Live announcement for Jan. 13 at 9:30 a.m. Eastern. This second presentation will offer "an in-depth look" at some of the games revealed during the Nintendo Switch Direct.
How to watch the Nintendo Switch Direct livestream
The main Nintendo Switch Direct event will be viewable on a number of platforms. That includes YouTube, Line Live and Nintendo's official website. The following Nintendo Treehouse presentation Nintendo Treehouse presentation will be viewable on YouTube and Twitch.
What if I can't watch the Nintendo Switch Direct livestream?
If you can't tune in to watch the Nintendo Switch Direct event live, we've got you covered. Mic will be following along live and publishing all the news as it comes in. You can keep up checking in at our Nintendo hub right here.
More Nintendo Switch news and update
Check out more Nintendo Switch coverage, including Mic's reports on whether the console will be backwards-compatible, if more characters are coming to Smash Bros., what current games we want high-definition remakes of and information about the upcoming Nintendo Switch event.