Here's the short story 'Sherlock' season 4's final episode is based on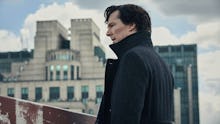 The Sherlock season four finale is airing on Sunday, and the name of the episode might sound familiar to some. The episode three title — "The Final Problem" — is a story by Sir Arthur Conan Doyle. It may also refer to the fate of its title character. 
[Editor's note: This post contains spoilers.]
The final episode of season four of Sherlock, written by Mark Gatiss and Steven Moffat, takes its name from the original story by Doyle, which chronicles Holmes and his enemy Moriarty's final, fatal encounter. The story concludes with them falling to their deaths from the top of the Reichenbach Falls. 
While Moriarty has already died on Sherlock, his dangerous influence has not. 
Rumors of the death of the show, and the title character, circulated rapidly after star Benedict Cumberbatch described season four's conclusion as feeling like the "end of an era." He also told the Telegraph, "This new series goes to a place where it will be hard to follow on immediately. We never say never on the show, but in the immediate future we all have things we want to crack on with, and we've made something very complete as it is. So I think we'll just have to wait and see."
Based on Doyle's Sherlock Holmes detective stories, but set in present-day London, the drama stars Cumberbatch as the unconventional detective Sherlock Holmes and Martin Freeman as John Watson. Holmes' enemy, Moriarty, is played by Andrew Scott. 
Since its 2010 premiere, Sherlock has enjoyed critical and commercial success, winning seven Emmy awards in 2014, as well as an Emmy for outstanding television movie in 2016. The second season's premiere garnered 3.2 million viewers, while nearly 4 million tuned in for the first episode of the third season. 
The final episode of the fourth season will air in select movie theaters for two nights, Jan. 16 and Jan. 18. It will also feature 15 minutes of exclusive extras. Tickets can be purchased online by visiting FathomEvents.com.