'Sherlock' season 4, episode 3 synopsis: Plot details for third and final episode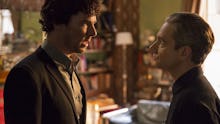 In what could end up being the penultimate episode of BBC's Sherlock, episode two gave us the likely answer to James Moriarty's ominous, post-mortem riddle: a secret Holmes sibling. Using an array of disguises, Eurus Holmes has snuck her way into the lives of Sherlock and John Watson as John's therapist, a flirty bus passenger and the daughter of a serial killer. 
Now that Eurus has been revealed, pointing a gun at John's head before pulling the trigger at the episode two end credits (though, of course, John isn't dead), what does that mean for the season four finale?
The synopsis for episode three, titled "The Final Problem," suggests that Eurus is Sherlock and John's greatest challenge yet — though in fairness, the series said the same thing about Culverton Smith last week, and practically every villain from seasons prior. But the plot details also hint that the season four finale could ultimately be a series finale for Benedict Cumberbatch's take on the world's greatest detective. 
Per PBS: 
In the final episode of this new season, long buried secrets finally catch up with the Baker Street duo. Someone has been playing a very long game indeed and Sherlock and John Watson face their greatest ever challenge. Is the game finally over?
It certainly does feel like Sherlock is reaching its endgame, and not just because the rising stardom of Cumberbatch and Martin Freeman is making it harder for the series to find time to film. This iteration of Sherlock has already matched wits with a plethora of worthy adversaries — it's hard to imagine a better final antagonist than his long-lost sibling, who may have been pulling the strings from afar the whole time. 
The Sherlock season four finale, "The Final Problem," airs Sunday at 7 p.m. Eastern on PBS.